Modular Micro Process System offers integral automation.
Press Release Summary: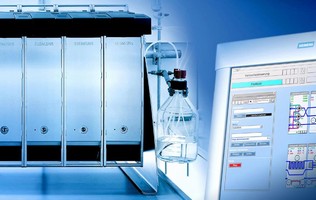 Designed for chemical and pharmaceutical industries, Siprocess enables microtechnology-based reaction of up to 3 reactants to manufacture product in liquid phase. Up to several tons of desired substance can be manufactured each year. Stainless steel modules, each 15 cm wide, comprise process system and cover all functions required for chemical synthesis: proportioning, mixing and reacting, sampling, and control of pressure and temperature.
---
Original Press Release:

Getting to the Product Faster with a Modular Micro Process System



Siemens Automation and Drives (A&D) has developed an open, modular micro process system with integral automation. It is called Siprocess and has been designed for the chemical and pharmaceutical industries where it specializes in the development of new processes or the optimization of existing processes, as well as the production of initial product quantities.

The new Siprocess micro process system is currently used in lab engineering for developing and optimizing processes and it enables the microtechnology-based reaction of up to three reactants to manufacture a product in the liquid phase. Up to several tons of the desired substance can be manufactured each year. This makes Siprocess ideally suited to the manufacture of initial product quantities.

Siprocess comprises individual stainless steel modules, each with a width of fifteen centimeters. These cover all the functions required for chemical synthesis: proportioning, mixing and reacting, sampling, and control of pressure and temperature. Each module includes separate sensors and electronics with pre-configured functions that control the internal actuators. The modules are connected by a data bus to the Simatic PCS 7 process control system. This then controls, operates and monitors the modules centrally. The system has a simple automation configuration that can be set up by the operator - following conversion work, for example.

The micro process system can be set up and commissioned in just one day. The compact arrangement of the modules compared to conventional setups also demands significantly less space in the lab. Thanks to the open design and system layout, users can easily incorporate their own components. The integral automation simplifies operation of the system and offers a high degree of efficiency and reliability in daily use.

In addition to fast process development in the lab, Siprocess users also enjoy the other benefits of micro process technology. These range from improved heat dissipation, shorter mixing times and significantly higher product yield, up to avoiding the "scale-up" risk that conventionally arises during the transition from the lab to production.

Siprocess is expected to be implemented in Europe from the fall of 2006 in close consultation with users. The aim of this regionally focused introductory phase is to amass operating experience in the most varied tasks in the laboratory environment. The knowledge thus gained will then be channeled into optimizing the system, allowing Siemens to work with users to define the necessary development steps for transferring the technology to full-scale production and prepare it for global use in the chemical and pharmaceutical industries.

You can find more information on the Internet at: siemens.com/siprocess

More from Materials