Modular Lift safely, mechanically raises/lowers heavy components.
Press Release Summary: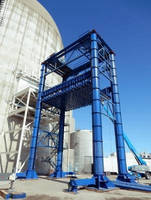 Able to withstand 120 mph winds and operate in up to 50 mph winds, Pipe Modular Lift System (PMLS) accepts mobile material handling equipment with cargo in place and lifts at speeds to 20 ipm. Freestanding and modular design allows site-specific customization. Accommodating lifting capacities of 400, 800, and 1,200 tons at vertical travel distances up to and exceeding 50 ft, solution is designed for 5% side loading with clear span openings configurable to 50 ft or larger.
---
Original Press Release:

Engineered Rigging Unveils Patent-Pending Pipe Modular Lift System: This Changes Everything



RUSSELLVILLE, Ark. – Since the ancient Greeks invented the first construction crane around the year 900 BC, a certain amount of risk has always been inherent in the use of a hook to lift heavy objects. Engineered Rigging has created a revolutionary game changer with its patent-pending Pipe Modular Lift System (PMLS). The PMLS eliminates the hazards of suspended loads, impacts from wind, and reliance on cranes by employing a platform that mechanically raises and lowers heavy components. It provides a safer, faster method of lifting equipment and materials up and into elevated locations based upon site-specific needs. In addition, the PMLS offers numerous advantages over traditional crane and gantry lift systems.



Given its freestanding modular design, the PMLS's capacity and footprint can be custom configured for every site. The system accommodates lifting capacities of 400, 800 & 1,200 tons at a vertical travel distance up to and exceeding 50 feet depending on the application, with exact height tailored to match project requirements. The standard column section can be increased in 10-foot increments or customized to meet client needs. It can be constructed in square, rectangular and round layouts based on site-specific conditions. It is designed for five percent side loading with clear span openings configurable to 50 feet or larger.



In addition to its safety and versatility, the PMLS further differentiates itself from traditional crane and gantry lift systems with its ease of transport, rapid deployment, lift speed and wind tolerance. The PMLS ships in 12 standard ground transportation trailers without any wide load or heavy load requirements, a stark contrast to the massive mobilization of 25 to 30 trailers needed for cranes or gantries. Upon delivery, assembly requires five shifts or fewer compared to the typical three to four weeks needed for comparable systems.



With a lifting speed of 20 inches per minute, Engineered Rigging's PMLS is twice as fast as strand jack systems and more reliable, as there are no cable drums or strands that can fail or hydraulics that can leak. If the PMLS loses power, the load remains safely in place on the secured platform until power is restored.



The PMLS is designed to withstand 120 mph winds and operates in winds up to 50 mph, far in excess of the 20 mph wind tolerance of many lift systems. Its wind capacity and enclosed structural components enable work to safely continue despite inclement weather conditions, which is essential for keeping critical path projects on schedule.



The PMLS platform accepts any mobile material handling equipment, such Engineered Rigging's Self Propelled Modular Transporters (SPMTs), with the cargo in place. This approach creates a minimal load-handling environment by eliminating the need for additional equipment and lifts to transfer components from one system to another. Upon the cargo being safely loaded onto the platform, the computerized system controls the desired vertical travel distance based on the user's input. Redundant safety limits prevent travel beyond the required distance. Once the PMLS reaches the desired elevation, the mobile material handling equipment transfers the cargo from the platform to the adjoining structure for delivery. By minimizing the number of load handling evolutions, the PMLS mitigates high-risk activities. This system is ideal for a multitude of heavy rigging applications in energy, aerospace, petrochemical, manufacturing, steel and other industries.



The PMLS was recently used by an electric power plant in the United States. Its ability to remain operational during high winds and inclement weather saved the utility time and money by eliminating the addition of critical path days during the outage.



The PMLS complies with the applicable sections of the following standards:

--  AISC Manual of Steel Construction, 9(th) Ed. and 13(th) Ed.

--  ASCE 7-10, Minimum Design Loads for Buildings and Other Structures

--  AWS D1.1, Structural Welding Code

--  ASME NQA-1-2004, Subpart 2.15, Quality Assurance Requirements for Nuclear Facility Applications

--  ASME B30, Various Sections

--  NUREG 0612, Control of Heavy Loads at Nuclear Plants

--  29 CFR 1926, OSHA Construction Industry Regulations



The PMLS is proudly engineered, manufactured and load tested in the U.S.A. To learn more, please visit us at three upcoming shows:

--  September 23-25, SC&RA Crane & Rigging Workshop, Sheraton Denver Downtown Hotel, Denver, Colo., Booth 24

--  October 5-8, Breakbulk Americas, George R. Brown Convention Center, Houston, Texas, Booth 238

--  December 8-10, POWER-GEN, Las Vegas Convention Center, Las Vegas, Nev., Booths 1133 and 1134



Demonstrations of the PMLS's capabilities are available via video or at Engineered Rigging's facility in Russellville, Arkansas. To request and schedule your personal live demonstration of this new lift system, please contact info@engineeredrigging.com.



About Engineered Rigging

Engineered Rigging provides innovative heavy lift, transport and engineering solutions to a wide range of industries. The company leverages decades of experience and a wealth of technical expertise to overcome the most complex logistical challenges. For more information, visit www.EngineeredRigging.com.



CONTACT:

Melissa Hicks

Mosaic Marketing

mhicks@mosaicmarketing.com

484.888.6766

More from Cleaning Products & Equipment