Modular LED Street Lights replace existing MH/HPS fixtures.
Press Release Summary: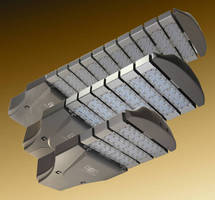 Dimmable from 15%–100% of max brightness, ETL-listed and RoHS-compliant Series SLM00 conform to IESNA Type III pattern, providing full cutoff, and is available in 5000K pure white LED light color. LED lifespan is 50,000+ hr, and lights support 120–277 Vac input. Available in 65–310 W configurations for replacing 150–1,000 W MH/HPS lighting, these replacements offer lumen output ranges from 5,076–25,500 lm. Solid-state design is impervious to shock, vibration, and environmental extremes.
---
Original Press Release:

ETL Listed Modular LED Street Lights Provide High-Lumen Lighting with up to 75% Energy Savings



LEDtronics modular LED street lights replace existing MH/HPS fixtures from 100 to 1000 Watts



The Full Cutoff Lamps Are Dimmable from 15 to 100% of Maximum Brightness



TORRANCE, Calif. — LEDtronics introduces a series of dimmable modular LED streetlights that are ETL listed and RoHS compliant. The new Series SLM00 Modular LED streetlight fixtures are dimmable from 15% to 100% of maximum brightness, support input voltages from 120 to 277 VAC, and conform to IESNA Type III pattern, providing full cutoff.



The modular streetlights are available in 5000 Kelvin pure white LED light color. White LED boasts a lifespan of over 50,000 hours and lumen maintenance of over 70%. That makes them excellent replacements for street and highway lighting, parking lots, driveway and walkway lighting. In addition, these units may also be used for area flood lighting, parks/playgrounds, billboard lighting, construction-site lighting, and tennis court/stadium lighting.



The modular LED streetlights also eliminate the unwanted glare, light trespass, energy waste and sky glow that accompany traditional incandescent street lamps. An estimated 30% of outdoor light generated in the U.S. goes into space, flooding the skies and creating electric haze that reduces stargazing. LED streetlights shine light in the direction where it is needed – at ground level, reducing the amount of light that is lost to the sky and improving overall nighttime viewing. The LEDtronics modular SLM00 series meet IES street lighting standards. (Test results may be downloaded from the company's website: www.LEDtronics.com)



The modular LED streetlight fixtures offer energy savings up to 75% and are available in the following wattage configurations: 65 watts can replace up to 150-watt MH / HPS lighting, 95W can replace up to 200W, 125W can replace up to 320W, 155W can replace up to 400W, 190W can exceed 400W replacement, 220W can exceed 400W replacement, 250W can exceed 400W replacement, 280W can exceed 400 watt replacement, and 310W can replace up to 1000W.



Lumen output ranges from 5,076 to 25,500 lm, depending on wattage configuration.



Solid-state design renders LEDs impervious to electrical and mechanical shock, vibration, frequent switching and environmental extremes. With an average life span of 50,000-plus hours, white LEDs operate reliably year after year and are virtually maintenance free.



About LEDtronics©

Based in Torrance, California, LEDtronics, Inc., since 1983 has been a world leader in designing, manufacturing and packaging Solid State Lighting products and state-of-the-art LEDs to meet the world's constantly changing lighting needs—from industrial control panel LED indicator lights to solid-state LED street light fixtures, High-Bay, Flood Light fixtures, from direct incandescent- replacement based LED bulbs to direct fluorescent-replacement T8 and CFL LED tube lamps. These Modular LED Streetlight fixtures are covered under a five-year LEDtronics warranty. Contact LEDtronics for quantity pricing. Ask for datasheet #465. For additional information, contact LEDtronics toll free at 1-800-579-4875, telephone 310-534-1505, fax at 310-534-1424, click here to email us at info@LEDtronics.com, or mail to 23105 Kashiwa Court, Torrance, CA 90505. Visit our website at www.LEDtronics.com.



Direct product web link:

http://tinyurl.com/mrlobcv

More from Electronic Components & Devices