AC Motor Controllers and Drives
Modular Frequency Inverter is suited for 690 V supplies.
Press Release Summary: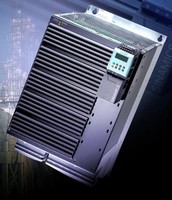 Included in Sinamics G120 series, PM250 Power Module covers outputs from 7.5-55 kW and utilizes integral sinusoidal filter based on silicon-carbide technology. It has line-commutated regenerative feedback and is available with 4 Safety Integrated functionalities as well as NAMUR-compliant communication via Profibus. Suitable for safety-critical applications, product offers vector control, voltage frequency control, and flux current control.
---
Original Press Release:

New Version of the G120 Frequency Inverter for 690 V Supplies



With the Sinamics G120 690 V, Siemens Automation and Drives (A&D) will present for the first time a modular inverter with integral sinusoidal filter based on silicon-carbide technology. This version not only adds a device for 690 V supplies to the Sinamics range, but the same device covers outputs between 7.5 and 55 kW. The inverter has line-commutated regenerative feedback and is available with four different Safety Integrated functionalities as well as offering NAMUR-compliant communication via Profibus. The Sinamics G120 690 V thus offers comprehensive solution options for use in the chemicals industry.

Siemens A&D supplements the Sinamics G120 range of frequency inverters with the PM250 Power Module for 690V supplies and outputs of 7.5 to 55 kW. The inverter can be precisely adapted to the requirements of an application when combined with the separate, replaceable Control Units of Sinamics G120. In the version for 690 V, the Sinamics G120 is the first silicon-carbide (SiC) inverter on the market. Thanks to the new semiconductor the PM250 can operate with a high pulse frequency, thus only a small, integrated sinusoidal filter is required. This makes the Power Module extremely compact and easy to integrate into a system. It is also quiet and extremely efficient and energy-saving. For flexible use in the field, unshielded motor cables are available in lengths of up to 300 meters, and shielded cables in lengths up to 200 meters. The specifications of EN 61800-3/C2 are complied with here.

The circuit concept of the PM250 enables feedback of process energy into the supply system by means of a bidirectional input rectifier without the need for a brake chopper or braking resistor. This can result in significant energy savings depending on the application and process. At the same time, the circuit concept causes less system perturbation than a conventional inverter. Like the other Power Modules of the G120 series, the PM250 is suitable for safety-critical applications. A Safety Control Unit turns the drive into a Safety Integrated Drive. Sinamics G120 offers safety functions in accordance with Category 3 (EN 954-1) and SIL2 (IEC 61508). The safety functions can be controlled either via safe digital inputs (FDIs) or direct via Profisafe.

In addition, the choice of a suitable Control Unit provides different communication interfaces via RS485 or Profibus with Profidrive Profile 4.0 and the integral NAMUR expansion. Depending on the application area, the Control Units are equipped with different analog and digital inputs and outputs, as well as different connections for motor protection equipment. The new frequency inverter offers vector control, voltage frequency control (V/f) and flux current control (FCC). Parameterization is carried out for all applications using the basic operator panel (BOP) or the Starter parameterization software. Parameters can be loaded simply and quickly (cloning) via micro memory card (MMC) or BOP. The new frequency inverter is extremely rugged thanks to the paint finish on the electronics modules and the external heat sinks. The electronics modules are convection-cooled and are thus especially suitable for the sometimes harsh conditions of use in the chemicals industry.

You can find more information at http://www.siemens.de/sinamics-g120

More from Sensors, Monitors & Transducers