Modular Carbide Drills feature high-positive rake angle.
Press Release Summary: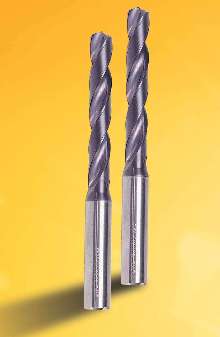 Models SE254HPC, SE255HPC, and SE256HPC run at 525 sfm in ductile irons and 700 sfm in gray cast iron. Physical vapor deposition coating with high hot hardness shields cutting edge from heat generated at high speeds. A 135° point with 45° corner chamfer reduces tool pressure upon hole exit and prevents breakout in gray cast iron. Double-margin design provides four-margin contact over entire hole cross-section. Inch and metric sizes are available.
---
Original Press Release:

New Kennametal Modular Carbide Drills Reduce Cast Iron Machining Costs


(Latrobe, PA) -- New Kennametal SE254HPC, SE255HPC, and SE256HPC carbide drills can dramatically reduce machining costs in a wide range of cast irons by offering machining speeds 30% to 40% higher that can be achieved with the best competitive carbide drills. For example, the new drills run at 525 surface feet per minute (sfm) in ductile irons such as 80-55-06, 40% faster than competitive carbide drills, and 700 sfm in gray cast iron, 30% faster than competitive drills. The key to the high performance of the new drills is a high-positive rake angle that reduces cutting forces and a sculptured edge drill geometry that increases centering at the top of the hole, which improves overall hole quality. The new drills also feature an advanced PVD coating with an exceptionally high hot hardness, shielding the cutting edge from the heat generated at high speeds. "Our field tests have demonstrated that these new drills can reduce holemaking costs by 30% or more on most any cast iron application now being performed with solid carbide drills," said Allen Poponick, Product Manager for Kennametal. "Savings are possible through reduced cycle time, higher part throughput, increased tool life and reduced cost per hole."

For example, on a ductile cast iron application, the new drills made it possible to increase cutting speed from 245 sfm to 600 sfm and feed rate from 0.0064 inches per revolution (ipr) to 0.0080 ipr, providing a 67% reduction in cycle time. The new drills increased tool life on a gray cast iron workpiece from 3256 linear inches with a competitive solid carbide drill to 9623 linear inches, providing a 195% improvement and saving $3008 per year. They saved $42,000 per year machining 100,000 pounds per square inch ductile iron at 350 sfm and 0.012 ipr through tool life and tool change downtime improvements.

SE254HPC, SE255HPC, and SE256HPC Kennametal drills borrow proven features from previous designs, such as the patent-pending HP point geometry that provides 20% lower thrust than conventional drills as well as a straight cutting edge that promotes even wear across the drill face. But the new drills have design enhancements to address the challenges of machining cast iron. They feature a 135 degree point with a 45 degree corner chamfer that reduces tool pressure upon hole exit and prevents breakout in gray cast iron. Their new double-margin design provides four-margin contact over the entire hole cross-section, raising margin contact from 25% to 46%. This greatly improves drill stability in applications with irregular exits, angled entrances, inclusions, and interrupted cuts such as crossholes. The drills are offered in a new grade, KC7315, that features a multilayer advanced physical vapor deposition (PVD) coating with exceptionally high hot hardness and surface smoothness, enabling higher speeds in cast iron machining. The new grade also features a 9.5% cobalt submicron substrate.

SE254HPC, SE255HPC, and SE256HPC drills are available in metric sizes from 4 mm to 20 mm diameter in lengths of 3 times the hole diameter, in diameters from 5 mm to 21 mm in lengths of 5 times the hole diameter, and in diameters from 5 mm to 16 mm in lengths of 7 times the hole diameter. They are also offered in inch sizes from 0.1563 inches to 0.75 inches in lengths of 3 times the hole diameter, in diameters of 0.1563 inches to 1.010 inches in lengths of 5 times the hole diameter, and in diameters from 0.1563 inches to 0.7580 inches in lengths of 7 times the hole diameter. Special step solutions are also available in diameters of 4,0 mm to 20,0 mm in lengths of 3 times the hole diameter. To guarantee optimum repeat performance, the new SE254HPC, SE255HPC, and SE256HPC drills should be reconditioned by the Kennametal Reconditioning Service. The service offers like new quality, 5 to 7 calendar day turnaround on coated standard Kennametal and competitive solid carbide drills, and the Blue Box, a secure, delivery-paid container.

For more details on these and other Kennametal products, please call 800-446-7738 or visit www.kennametal.com

More from Material Processing