Modular 5-Axis Vise decreases stationary jaw deflection.
Press Release Summary: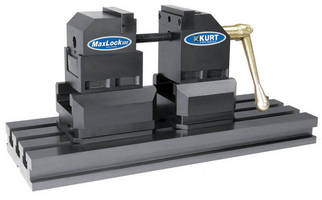 Equipped with Anglock® feature that minimizes part lift, MaxLock(TM) 350 holds parts with up to 10,000 lb clamping force at 60 lb-ft input torque for max rigidity and close tolerance repeatability in all axes. It enables obstruction-free, high-speed machining in all 5 axes and is constructed with steel components. Featuring 0.625 in. stroke, vise is adjustable to handle any desired clamping length. Available screw lengths are 8, 12, 18, and 24 in., and jaw opening ranges from 0.5-15.5 in.
---
Original Press Release:

Kurt® Introduces New MaxLock(TM) 350 Multi-Axis Anglock Vise - First and Only 5-Axis Vise with Kurt's Anglock® Design Feature for Decreasing Stationary Jaw Deflection



Minneapolis, Minnesota: Kurt announces introduction of its new MaxLock(TM) 350 multiaxis Anglock® vise. Designed with Kurt's time-proven Anglock feature, this new 5-axis Anglock design reduces part lift to a minimum. It holds parts with maximum rigidity for close tolerance repeatability in all axes.

This new vise is ideal for clamping parts for continuous 5-axis cutting motion of complex pockets, sculptured and contoured surfaces and intricate 3-D features with repeatable high precision accuracy.

The MaxLock delivers up to 10,000 lbs of clamping force at 60 ft lbs of input torque. It provides rigid, obstruction-free, high speed machining in all 5 axes. Where conventional workholding limits a 5-axis machining center to just 3-axis operation, the Kurt MaxLock 350 extends the operating range of the machining center to its full output potential.

Designed with precision machined steel components, this new MaxLock 350 is more versatile than other multi-axis vise designs. Featuring a large 0.625 inch stroke, the new MaxLock 350 allows for a wider range of clamping before changing the setup.

Its modular design is adjustable to handle any desired clamping length and is limited only by the size of the machine table. The vise is available with screw lengths of 8.00, 12.00, 18.00 and 24.00 inches with minimum jaw opening of 0.5 to a maximum jaw opening of 15.5 inches.

The new MaxLock 350 vise has quick alignment features. It mounts on two-inch grid patterns when removed from the riser and "T" slots or center hole grids 100mm (with the long riser) and under. Has 1/2 or 5/8 inch holes for fast mounting on risers using sine keys. Also features auxiliary clamping slots for even more mounting flexibility.

Additional features include: Chip guarded design keeps clamping mechanism free of chips for cleaner, smoother vise operation and faster loading; Replacement vise screws can be easily machined and changed in the vise to accommodate a broad range of part sizes; Optional accessories include workstops and jaws. These include double step 40RC jaws with CBN (Cubic Boron Nitride) coating (for maximum gripping force) and carvable 40RC jaws complete with mounting holes.

"Five-axis machining has become the standard especially where medical devices and aerospace engine components are manufactured," reports Steve Kane, global sales and marketing manager for Kurt. "This new Kurt MaxLock 350 vise gives these manufacturers more multi-axis workholding flexibility plus Kurt's high level of precision clamping for the highest quality part production."

Like all Kurt vise products, the new MaxLock 350 vise is covered by Kurt's Iron Clad Lifetime Warranty.

For FREE brochure, call in USA and Canada, 1-877-226-7823. Outside USA and Canada, call 1-763-574-8309. Email: workholding@kurt.com

Or write to Kurt Manufacturing Company, Industrial Products Division, 9445 East River Road NW, Minneapolis, Minnesota 55433. In USA, Fax 1-877-226-7828. Outside USA, Fax 1-763-574-8313. Website: www.kurtworkholding.com

More from Computer Hardware & Peripherals