MODRoto Offers Recycling Carts Customized with Extra Safety, Security Features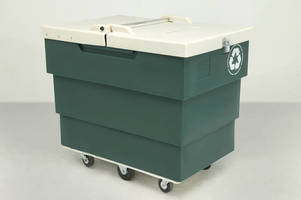 At ISRI Booth #1129, Cart Manufacturer to Showcase Ergonomics, Lockability

Madison, IN, USA – The 50P Series recycling carts in the Poly-Trux® line from recycling product manufacturer MODRoto, Madison, IN (MODRoto.com) are offered with a choice of optional safety and security features to help safeguard workers from injuries and help prevent access to valuable materials contained inside the carts. To be showcased at Institute of Scrap Recycling Industries (ISRI) Convention and Exposition booth #1129 on April 2, 2016 in Las Vegas, NV, the 50P Series recycle carts support proper ergonomics with an optional, hinged side panel that opens for easy access to the cart interior during loading and unloading, and with an optional spring platform that rises as materials are removed. Both reduce bending and reaching and aid in reducing workers' compensation claims.

To help secure scrap metal, electronics waste and other cargo, the 50P Series carts are offered with an optional, rugged, plastic security lid that may be locked to block access and support HIPAA compliance (50P-16R only), and/or with an optional, water-resistant, vinyl cover cap that envelopes the cart perimeter to hide the interior and deter casual theft. Available in 18-, 16- and 11-bushel capacities, the 50P Series carts set a durable, rotationally molded plastic bin and marine plywood base atop six, industrial-strength casters that support loads up to 500 lbs. The recycling carts come in a choice of colors and ship from the company's East, West and Midwest facilities for reduced freight costs and short lead times.

For more information, contact MODRoto at 1745 Cragmont St., Madison, IN 47250; 1-800-829-4535; FAX 812-273-1878; questions@modroto.com or see www.MODRoto.com.
More from Agricultural & Farming Products