Modified Material Transfer Pumps protect wrapped materials.
Press Release Summary: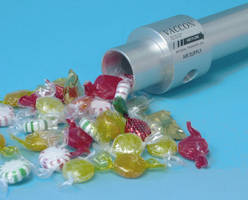 Modified material transfer pumps move various types of wrapped materials from one place to another without unwrapping or unraveling. Powered by compressed air, they offer instantaneous vacuum flow and high air velocity, allowing material to pass through at high speeds without interference. Pumps are available in anodized aluminum in 16 standard sizes, with internal diameters from 1/8-4 in., and vacuum flow rates from 3-375 scfm.
---
Original Press Release:

Modified Material Transfer Pumps Won't Unravel or Unwrap Wrapped Materials



Vaccon Company, Inc. of Medway, Massachusetts offers a modified material transfer pump that provides packaging automation professionals with the ability to move various types of wrapped materials from one place to another without unwrapping or unraveling. Powered by compressed air, the modified material transfer pumps are ideal for automating the bulk packaging operations for wrapped foods, confections, and medical products such as surgical swabs.

Vaccon's material transfer pumps offer instantaneous vacuum flow and high air velocity allowing material to pass through at high speeds without interference. Depending on the product size and shape, Vaccon recommends pulsing the air to unscramble materials and eliminate clogging.

Material transfer pumps are available in anodized aluminum in 16 standard sizes, with internal diameters from 1/8" to 4", and vacuum flow rates from 3 SCFM to over 375 SCFM. Consult factory for custom sizes, optional internal or external threaded ends, and materials such as stainless steel, Teflon, and PVC.

For More Information: Vaccon Company, Inc., 9 Industrial Park Road, Medway, MA 02053, Contact: Pat Kellogg, Telephone: (508) 359-7200, Fax: (508) 359-0177, Email: info@vaccon.com, Website: www.vaccon.com.

Product link for Material Transfer Pumps: www.vaccon.com/DF-Home.aspx

Related