Modern Heat Treat Further Expands Production Capability with New Afc-Holcroft Integral Quench Batch Furnace Equipment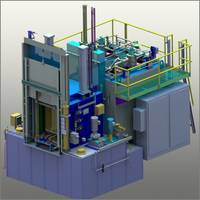 (March, 2019) In support of its continued growth, Modern Heat Treat, a commercial heat treating operation located in Richland Hills, Texas (USA), has added several additional UBQ (Universal Batch Quench) furnaces and companion equipment to its installed base. Several new equipment orders were placed with AFC-Holcroft months apart throughout the year in 2018, adding similar equipment to that already in operation in their facility.
Modern Heat Treat have benefitted from the modular, flexible UBQ design with the ability to add new equipment to their facility incrementally, creating full production cells that utilize existing controls. Individual furnaces can be added to the operation independently, and the same can be idled then restarted easily as needed for maintenance service, changes in process or production.
"These large capacity UBQ furnaces provide Modern Heat Treat with a distinct advantage in the market, since the equipment is scalable to meet their need for flexibility," says Tracy Dougherty, Vice President of Sales at AFC-Holcroft. "AFC-Holcroft is proud to be a part of the continued expansion and growth of Modern Heat Treat"
About Modern Heat Treat:
Modern Heat Treat has been serving the metalworking industry since 2009, providing heat treating services such as alloy quench and temper flame hardening, carburizing, and more from small to large-sized businesses.
The business has grown into a 25,000 sq ft facility on a 5 1/2 acre lot, with 57 employees and over 40 pieces of furnace equipment.
About AFC-Holcroft:
Founded in 1916, AFC-Holcroft, is one of the US market leaders in the production of industrial furnace equipment for ferrous and non-ferrous metals. The company manufactures turn-key heat treating systems for applications including commercial heat treating, bearings, automotive, aerospace, mining, aluminum heat treatment, gear manufacturing, fastener manufacturing, and alternative energy industries.
Member of the Aichelin Group since 2016 and headquartered in Wixom, Michigan, AFCHolcroft operates its own subsidiaries in China and Switzerland and has a global presence through a network of partners located in Australia, Brasil, India, Mexico, Poland and Spain.
About AICHELIN Holding:
As part of Berndorf AG, AICHELIN Group is a leading provider of heat treatment solutions, such as industrial furnaces, induction hardening plants, industrial gas burners systems as well as automation technology and after-sales services. The AICHELIN headquarters are located in Mödling near Vienna. The company's roots date back to 1868. The long-established brand AICHELIN, as well as AFC-Holcroft, EMA Indutec, SAFED, BOSIO, and Noxmat, make up the group and together employ more than 1,100 people. AICHELIN Group ranges among the world's top 3 heat treatment companies. AICHELIN's subsidiaries in Europe are located in Austria, France, Germany, Slovenia, and Switzerland; the worldwide presence of the company includes subsidiaries and branch offices in China, India, Russia, and the US, as well as a sales network in 22 more countries. http://www.aichelin.com
For more information, contact [email protected].
For More Information:
J. Ciszewski
+248-624-8191