Model VMF-28™ Auger-Style Feeders come with corrosion-resistant finishing.
Press Release Summary: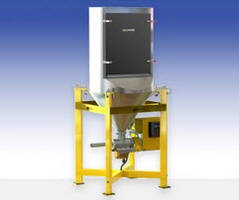 Model VMF-28™ Auger-Style Feeders are offered with 0.75 to 2.5 in. diameter solid augers and 1.5 in. to 2.5 in. diameter open helix style augers. Units are used in dosing additives such as alum, carbon, lime, polymers and soda ash. Feeder comes with stainless steel hopper with a capacity of 2.8 cu. ft. and delivers a feed rate of up to 0.2 to 35.4 cu. ft. per hour. Product is compatible with 1020 (Digit Controller) and Model 1020-B™ controllers (Digit Batching Controller).
---
Original Press Release:
New Automatic Volumetric Feeder Saves Time, Improves Dosage Accuracy in Water Treatment and Chemical Process Management
Scaletron Industries has introduced a new line of volumetric screw feeders for metered dispensing of powdered or pelletized chemicals into water, wastewater and chemical treatment processes. The Model VMF-28™ auger-style feeders feature a fully integrated Scaletron scale. Precise dosage amounts are automatically weighed and added to treatment processes without requiring an operator to measure and weigh amounts. Data is displayed at a central monitoring station where operators can quickly make adjustments as necessary from the control panel.
Besides saving operators time, the new VMF feeders improve accuracy because the integrated scale continually monitors weight loss or gain. Heat, moisture and other environmental variables can cause additives like lime and carbon to absorb or dissipate water which changes the compound's weight. These subtle changes can go undetected when a measured amount of additive sits on a loading tray waiting to be used. This can result in not enough, or too much material being introduced into the treatment process. The Scaletron feeder eliminates this risk by providing operators with constant real time assessment of the total mass of additive being used.
Said Scaletron president, Ed Dougherty, "A lot of ad hoc systems are out there where somebody has attached a scale to a feeder." Dougherty said the Scaletron VMF feeders give customers added assurance of quality and accuracy. "We have over thirty years experience in designing and manufacturing scales for municipal and industrial processing facilities," Dougherty said. "The scale technology in the VMF feeders is expert technology integrated by engineers highly experienced in weighing materials for dosage operations. The VMF units are precision instruments designed specifically to provide better accuracy in managing these types of operations."
Featuring rugged and durable steel construction, the Scaletron VMF feeders have a corrosion resistant finish. The new feeders accurately meter dosing additives such as alum, carbon, lime, polymers, soda ash and other dry powders or pelletized materials.
VMF feeders use a heavy-duty, gear-driven auger to continually feed material from the built-in stainless steel hopper at a rate of 0.2 to 35.4 cu. ft. per hour. Hopper capacity is 2.8 cu. ft. with larger sizes available.
The Model VMF-28 Volumetric Screw Feeders are available with 0.75″ to 2.5″ diameter solid augers to dispense material from the supply hopper into treatment processes. Also offered are 1.5" to 2.5" diameter open helix style augers. In addition, a wide range of accessories are available including independently controlled vibratory agitators; lift-off, hinged or fixed lids for hopper; hopper extensions for additional capacity; bag loaders for 50 lb. bags; mixing tanks and wetting cones; base stands, loading platforms and bulk bag unloaders; plus dust collectors and explosion proof systems.
The integrated scale in both models employs four load cells each with an adjustable stainless steel leveling bolt. The scale measures changes in volume to 0.5% accuracy. Controls are housed in a NEMA 4X, UL-approved enclosure. The VMF-28 models are compatible with Scaletron's line of scale indicators and controllers. These include the Model 1020&trade: 5 Digit Controller and Model 1020-B™ 5 Digit Batching Controller V5 which are programmable units that monitor and automate dosing and dispensing processes.
About Scaletron Industries, Ltd.
Scaletron Industries, Ltd. is the industry leader in corrosion resistant scales for use in the harsh environments of the municipal drinking water, waste water treatment and industrial process water treatment industries. Scaletron offers a full line of mechanical and electronic scales including cylinder, ton cylinder, drum, tank, platform, and spill containment scales. Scales are designed for weighing corrosive chemicals including powders, liquids, and liquefied gases. Scaletron offers a full, 5 year warranty on all products.
For more information including features, literature, drawings, OEM manuals, and bid specifications please visit www.scaletronscales.com/2308cs.html or call Scaletron Industries at 215-766-2670.
Contact This Company Download Spec Sheet
More from Test & Measurement