Model 01287 Motor Pulley Torque Sensor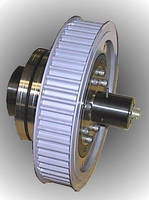 Sensor Developments Inc. is pleased to announce a new development in its rotary torque sensor line with our new motor pulley torque sensor, model 01287. This sensor features a highly accurate integrated sensing element, capable of resolving low torque levels while being exposed to high radial loads created by belt drive systems. Use it to replace a standard pulley system for equipment like engines, generators, fluid pumps, or other motor driven equipment and continuously monitor real time torque while in operation. This custom sensor can be adapted to a wide range of belt drive systems and can be installed in a dynamometer test stand or on vehicle.

Various torque capacities and pulley wheels can be designed to meet your specific requirements.

More from Controls & Controllers