Mobile Welding Fume Extractor suits heavy-duty environments.
Press Release Summary: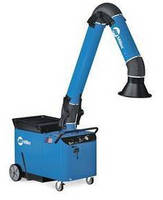 FILTAIR MWX-S Mobile Fume Extractor includes self-cleaning feature with pulse-jet technology that restores filter life in 1 min. Created for welding applications with high arc-on time and/or processes that produce large amounts of fumes, it has MERV-15 rated nanofiber filters which capture up to 95% of welding fume particulates. Unit also features 875-CFM extraction capacity and 7-, 10-, and 12 ft, externally supported extraction arm equipped with large bell-shaped hood.
---
Original Press Release:

Miller Introduces Self-Cleaning MWX-S Mobile Fume Extractor for Heavy-Duty Environments



Designed for heavy-duty industrial environments, Miller's new FILTAIR MWX-S Mobile Fume Extractors self-clean to restore filter life in just one minute.

Highlights/Key Facts

o The only fume extractors designed specifically for welding fume-size particles, Miller's FILTAIR MWX-S nanofiber filters carry a MERV-15 rating, last longer and capture more welding fume particles than competitive fume extractors

o Self-cleaning feature, designed for environments with high arc-on time and high fume-producing processes, restores filter life in one minute, faster than many competitive systems.

o Heavy-duty construction, including a durable, industrial-grade metal cabinet and extraction arm, designed to withstand the demands of everyday welding.

The FILTAIR MWX-S combines submicron fume extraction capabilities with a self-cleaning option for reduced operator downtime and consumables costs.

Appleton, Wis., October 15, 2009-Adding to its recently introduced FILTAIR series of welding fume extractors, Miller Electric Mfg. Co. introduces the FILTAIR MWX-S, a self-cleaning mobile fume extractor designed to reduce downtime and consumables costs in heavy-duty manufacturing and fabrication environments.

Featuring a nanofiber filter designed specifically to capture the submicron particles contained in welding fumes, the FILTAIR MWX-S uses pulse-jet technology to restore filter life in one minute - reducing downtime by up to 97 percent when compared to competitive models using cellulose filters.

Created for welding applications with high arc-on time and/or processes that produce large amounts of fumes, such as Stick or flux-cored, the self-cleaning feature can pay for itself in eight cleaning cycles and reduces the chances that an operator will continue using the unit beyond its specified filter life.

The nanofiber filters are surface loading, which means they last up to three times longer than competitive depth-loading filters and experience less efficiency drop as they fill with welding fume particulates.

The MWX-S features 875-CFM extraction capacity. The externally supported arm is equipped with a large bell-shaped hood for optimal fume extraction and less repositioning. Recognizing the importance of welder safety and health, Miller rates its extraction capacity at the hood as opposed to at the cabinet, which can provide an inaccurate performance rating. The FILTAIR is available with 7-, 10- and 12-ft. extraction arms making it ideal for a variety of heavy manufacturing and fabrication applications.

Links:

FILTAIR product information:

http://www.millerwelds.com/products/fumeextraction/filtair_-_mobile/

FILTAIRE spec sheet:

http://www.millerwelds.com/pdf/spec_sheets/AY3-0.pdf

Product Manager Quote:

"We created the FILTAIR MWX-S to provide heavy manufacturers and fabricators with a cost-effective solution to improve their work environments and increase welder safety. The self-cleaning feature, combined with our nanofiber filter technology, provides the industry's highest level of fume removal and reduces the time and cost involved in filter replacement."

- Al Hilbert, product manager, Miller Electric Mfg. Co.

Additional Product Information:

The FILTAIR uses nanofiber filter technology to capture up to 95 percent of the smallest welding fume particulates, more than any competing brands. Welding fumes contain particles of different sizes, up to 90 percent of which are smaller than one micron (.000001 of a meter). Rated at MERV-15 (ASHRAE's Minimal Efficiency Reporting Value) the FILTAIR filter captures more particles at that size than cellulose-type filters and lasts several times longer. Typical cellulose filters are not even MERV rated and are designed to capture larger, dust-sized particles.

MERV is an ASHRAE (American Society of Heating, Refrigerating and Air-Conditioning Engineers) standard used to classify filters based on their air-cleaning efficiency on particles of different sizes. MERV ratings range from 1 to 16. A MERV 15 rating means the filter is 90-percent effective at filtering the 0.3- to 1-micron sized particles that are found specifically in welding fume.

The FILTAIR's nanofiber filters are surface loading, meaning they keep the particles on the surface of the filter, allowing the filter to breathe freely longer. Most competitive models use cellulose or pretreated cellulose filters, which are depth loading, meaning they pull the particulates deep into the filter where they more quickly clog the pores, reducing their filter lives. Along with the nanofiber filter, FILTAIR machines are designed to maximize the airflow efficiencies, resulting in longer lasting suction power.

About Miller

Miller Electric Mfg. Co., headquartered in Appleton, Wis., is a leading worldwide manufacturer of Miller brand arc welding equipment and is a wholly owned subsidiary of Illinois Tool Works Inc. (NYSE: ITW).

For more information, visit Miller's Web site at www.MillerWelds.com, call 1-800-4-A-Miller (800-426-4553), e-mail info@millerwelds.com, fax 877-327-8132, or write to Miller Electric Mfg. Co., P.O. Box 100, Lithonia, GA 30058.

More from Laboratory and Research Supplies and Equipment