Computer and Communication Terminals
Mobile Terminal remotely monitors self-checkout lane.
Press Release Summary: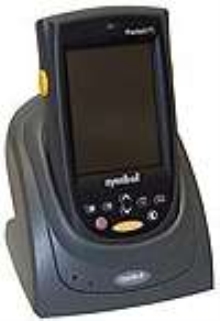 Mobile Terminal enables remote IBM Self-Checkout assistance from virtually any location in store. It combines functionality of handheld PDA, wireless LAN RF technology, and software to improve performance of self-checkout. Able to indicate lane activity, terminal provides clear messaging for shopper assistant and helps cashier to recognize and resolve issues remotely. Unit also adds to security by monitoring lanes closely.
---
Original Press Release:

IBM Mobile Terminal Solution: Remotely Monitors the Self-Checkout Lane


At a glance

IBM Mobile Terminal solution

Enables remote IBM Self Checkout assistance from virtually anywhere in the store

Speeds checkout; potentially enhancing customer service

Offers flexible scheduling options which may save more labor needs

Provides additional security possibilities

For ordering, contact:
Your IBM representative or IBM Americas Call Centers at 800-IBM-CALL (Reference: SE001).

Overview

The IBM Mobile Terminal is a unique, solution designed to enhance the role of the self-checkout cashier, performing IBM Self Checkout system functions remotely. This capability can help increase cashier effectiveness and improve customer service by potentially minimizing the need for cashier assistance at the lane. The IBM Mobile Terminal system combines the functionality of a handheld PDA device, wireless LAN RF technology, and unique software to help improve the performance of self-checkout. IBM Self Checkout now supports a new Symbol handheld unit, Model 8846 (#4206). The Mobile Terminal solution is an example of how IBM and Symbol Technologies are partnering to provide leading solutions to retail customers. In addition, the IBM Mobile Terminal has new and improved functionality designed to more accurately indicate lane activity and to provide clearer messaging for the shopper assistant.

The benefits of this solution to your retail customers are:

Monitoring lane usage and issues from virtually any location in the store

Enabling the cashier to quickly recognize and resolve issues remotely

Potentially reducing your customer's wait time by allowing store associates to assist multiple customers without having to travel from lane to lane

Scanning large packages easily without having to remove them from the cart

Monitoring the lanes more closely to provide additional security possibilities

Allowing shopper assistant permission for functions that may be more appropriate for their level of responsibilities

Key prerequisites

In order to support and utilize the IBM Remote Terminal software and functionality, the retailer must provide:

Self Checkout software: The new mobile terminal files will run on all current versions of 4X, but not all of the software fixes will be realized unless the customer is at lane code 4.55, or higher.

Self Checkout hardware

Any IBM Self Checkout Lane

Back Office System Server (BOSS)

Wireless access point: 11 Mbps Direct Sequencing Spread Spectrum (802.11b)

Hand-held hardware: Symbol Hand Held 8846 - PPT8846-R3BZ00VVVV

Accessories

Cradle: CRD8800 - 10000SIM

DB9 Cable: 170047-000 REV B

Battery: 1UF103450P - OS3

Power supply: 50-14000-107 Rev A

For additional information on the Symbol 8800, go to http://symbol.com/products/mobile_computers/ppt8800_enterprise_pda.html

Planned availability date

June 10, 2005

More from Electrical Equipment & Systems