Mobile Skidless Surface Gauge evaluates complex parameters.
Press Release Summary: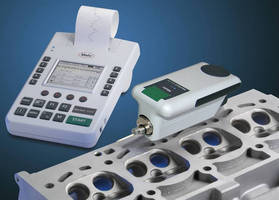 MarSurf® M 400 features motorized probe height adjustment that automatically zeros probe in seconds. Magnetic breakaway probe mounting system protects probes from accidental damage and facilitates changes. System measures all common international parameters and features Bluetooth connectivity between measuring system and evaluation unit with integrated thermal printer. Skidless tracing of surface characteristics allows capture of primary, waviness, and roughness profiles.
---
Original Press Release:

Mahr Federal to Feature MarSurf® M 400 Skidless Surface Gage at MD&M WEST 2012



PROVIDENCE, RI - Mahr Federal will be featuring the addition of an economical and powerful new skidless surface evaluation system to its MarSurf® line of mobile surface metrology systems at MD&M WEST, February 14-16, 2012, at the Anaheim Convention Center, Anaheim, CA. Mahr Federal will occupy booth #3069.

The new MarSurf M 400 features proprietary motorized probe height adjustment that quickly and automatically zeros the probe in seconds and can cut measurement time in half. The M 400 also features a magnetic, breakaway probe mounting system that protects sensitive probes from accidental damage and facilitates fast probe changes. The MarSurf M 400 measures all common international parameters, and features Bluetooth connectivity between the measuring system and the evaluation unit with integrated thermal printer.

Skidless tracing of surface characteristics allows the capture of primary, waviness, and roughness profiles for the evaluation of more complex parameters. The new MarSurf M 400 offers this capability in a very economical, entry-level system, and is the only one to include proprietary auto-probe zeroing, which can dramatically increase the ease and speed of measurement. The magnetic probe mounting system also protects delicate probes and allows probe arms to be rapidly changed with just a touch.

Operation of the M 400 is fast and easy. The measuring unit can be used alone in different orientations, in combination with various accessories, or mounted on a measuring stand. A large color display on the evaluation unit provides clear, concise results and intuitive operator guidance. The unit is compatible with all appropriate DIN, ISO, JIS, ASME and MOTIF standards for the measure of most common surface finish parameters from the P, W, and R profiles.

The MarSurf M 400 comes in its own carrying case and includes the M 400 Evaluation Unit with integrated thermal printer, and Bluetooth connectivity with the newly designed SD 26 Drive Unit with the breakaway BFW 250 probe system and standard probe arm. Battery or AC adapter operation extends flexibility, and two USB cables allow connection to a PC or optional use with the drive unit.

Also on display at Mahr Federal's MD&M WEST booth #3069 will be:


The next generation of Mahr Federal's µMaxµm® line of digital indicators, offering a wide range of new features, including: Dynamic Max, Min, TIR; two point difference measurement; Multiplier Factor for ratio measurements; indicator serial number identification; resolution to 10 µin; selectable continuous output; and longer battery life.


The new generation of Mahr Federal's popular line of MarCal digital calipers. Included in the enhanced line are a number of innovations: lapped guideways; a new Reference System that retains the zero position setting; and an increased number of product options and accessories.


Mahr Federal's line of Dimensionair air gaging products for orthopedic and other non-contact applications. Air gaging is a proven, highly precise and accurate way of measuring bores and tapers often found in orthopedic implants. It is quick and easy to use, requiring little skill on the part of the operator, and is highly adaptable to measuring special features for both dimensional and geometric tolerances.

A full range of other Mahr Federal handheld gages and other dimensional metrology products will also be on display.

Mahr Federal Inc., a member of the Mahr Group, is celebrating its 150th year of providing dimensional measurement solutions to fit customer application needs. The company manufactures and markets a wide variety of dimensional metrology equipment, from simple and easy-to-use handheld gages to technically advanced measurement systems for form, contour, surface finish and length. Mahr Federal is also well known as a producer of custom-designed gages and a provider of calibration and contract measurement services. Mahr Federal's calibration laboratories are accredited to ISO/IEC 17025:2005 NVLAP Lab Code 200605-0 (see our Scope of Accreditation for accredited calibration processes). For more information visit www.mahr.com

For additional information, contact:
Marketing
Mahr Federal Inc.
1144 Eddy Street
Providence RI 02905 USA
Tel: (800) 343-2050 or (401) 784-3100
Fax: (401) 784-3246
Email: information@mahr.com
Web site: www.mahr.com

More from Sensors, Monitors & Transducers