Mobile Repair Shop facilitates equipment maintenance.
Press Release Summary: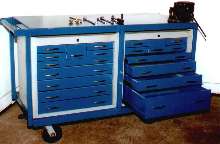 RollaBench features Torqer Industrial Truk wheel system, which provides comfortable push or pulling effort of less than 8 lbs for each 2000 lbs of Gross Vehicle Weight. It is made of all steel, welded construction and will function indefinitely. Models are available with 5 to 17 lockable drawers and lockable cupboard areas to carry and store tools, supplies, and parts. All have 27 x 54 in. heavy steel top workbench surface.
---
Original Press Release:
Re-Designed Rollabench

TORQER, (Formerly Techno Truck Mfg.) has recently re-designed, significantly improved and substantially expanded its line of mobile maintenance and repair shops called the RollaBench.

The RollaBench implements the concept that more often than not it is more practical to take the shop to the job rather than take the job to the shop.

The "RollaBench" which in the past has been a very good friend of the maintenance and repair mechanic is now an even better friend.

The RollaBench has exceptionally easy manually pushed mobility. It is equipped with the unique Torqer Industrial Truk wheel system, which provides an easy and comfortable push or pulling effort of less than 8 lbs. for each 2000 lbs. of G.V.W. (Gross Vehicle Weight). This is less than half of any other existing wheel system. This very low pushing effort makes it practical to move 2000 lbs or more of toois, equipment, parts and supplies right up to the job site.

There are over 4000 RollaBenches in use to facilitate all kinds of building repairs and maintenance in manufacturing plants, stores, distribution centers, schools, apartment complexes, office buildings etc. This includes plumbing, heating, ventilating, air conditioning, doors, windows, electrical, lighting, elevator and escalator etc. maintenance and repair functions.

The RollaBench has also been found to be quite productive in the original construction of almost all types of buildings.

Another primary role of the RollaBench pertains to the maintenance and repair of every type of production equipment in almost all types of factories. This includes food processing, chemical, textile, clothing, printing, metal working furniture plants etc.

RollaBenches are also used in the original assembly of heavy trucks. Construction equipment, machine tools, aircraft, farm equipment, printing presses, medical equipment such as M.R.I.'s etc.

One model is specific to the set-up and operation of C.N.C. machining centers and turning machines.

About a third of the RollaBenches in use have been sold to many federal government agencies through successive G.S.A. contracts.

Another major rule of the RollaBench is in the repair of almost all types of vehicles including trucks, autos, aircraft, construction and agricultural equipment etc. The U.S. Air Force takes RollaBenches right onto the tarmac to service fighter planes.

RollaBenches are of all steel, all welded construction and will function indefinitely. They are not "built down to a price" but rather are built to maximize productivity.

Skilled, experienced and effective maintenance and repair mechanics are in short supply, people who diagnose correctly and do the job right the first time. The RollaBench which enables the productive mechanics to handle significantly more projects is priceless even though its payback is just a few months.

Various models are available with anywhere from 5 to 17 lockable drawers and lockable cupboard areas to carry and store an extensive assortment of tools, supplies and parts. All models have a 27" wide X 54" long heavy steel top workbench surface.

Mechanics vises, pipe vises and other equipment can be factory or user installed.

Many role enhancing options are also available including masonite or maple work bench tops, built in electrical outlets, side saddle for carrying along pipe, tubing conduit and other long shapes.

Adjustable height work platforms, which are built into the RollaBench, are available to handle overhead work.

The RollaBench can be equipped with a tow bar for very long distance towing by powered equipment.

Very often, the savings on a single project will pay back the relatively modest cost of a RollaBench.

Some RollaBench models are equipped to incorporate a welding machine or air compressor or drill press etc. on an extended compact platform.

The RollaBench is a highly mobile, compact and versatile shop for efficient maintenance and repair operations as well as a direct use in many manufacturing roles.

For further information contact:

Harold Isaacs, president and chief engineer.

Ph. 216.761.6400

Fax 216.761.6402
More from Electrical Equipment & Systems