Mobile Radios feature 25 watt transmitter.
Press Release Summary: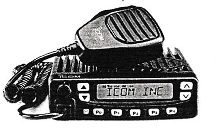 IC-F520 VHF/IC-F620 UHF radios, for land mobile use, 10-character alphanumeric tagging for channel identification. Backlit LCD display allows for easy night or day viewing. Reversible chassis accommodates top-firing or bottom-firing speaker applications. All standard tone-signaling formats are built in, including CTCSS, DTCS, 2-tone and 5-tone encode and decode. High-power versions provide 50 watts output on VHF and 45 watts output on UHF.
---
Original Press Release:

New IC-F520/620 Series Mobile Offers Today's Professionals a Modern Choice


(Bellevue, WA - May 2002) ICOM America announces the new IC-F520 VHF and IC-F620 UHF series mobiles, designed and built-for land mobile professional use, and offering a viable choice.

The IC-F520/620 series radios are designed with today's professionals in mind. Each model features 256 memories and 10 character alphanumeric "tagging" for easy channel identification. The large backlit LCD display allows for easy viewing, night or day. A notable feature is user-programmable custom icons, to further enhance ease of use.

These radios also allow for very flexible installation - they feature a reversible chassis, to accommodate top-firing or bottom-firing speaker applications in varied mobile environments, orienting the maximum speaker output in the direction you most need.

Up to nine programmable buttons are available for frequently used functions, including scan, priority, trunking group switch, emergency ID and repeat, and a host of other popular functions. Professionals who need to communicate while on the move will appreciate the large volume control knob, allowing for fast adjustments while keeping eyes on the road, and easier-to-use than the up/down buttons that are common to other manufacturers radios. The IC-F520/ 620 series radios are rugged, with a tough die-cast aluminum chassis that will stand up to the most demanding applications.

The ICOM IC-F520/620 series are compatible with SmarTrunkII(TM) (with optional UT-105 board) and LTR applications (up to 10 LTR systems supported by the optional UT-111 board), as well as
conventional repeater, talk around and simplex operation. All standard tone-signaling formats are built into these radios including CTCSS, DTCS, 2 tone and 5 tone encode and decode. Automatic number identification is available with the optional UT106 2 tone/5 tone DTMF decoder.

The ICOM IC-F520/620 series radios feature a rugged 25 watt transmitter. Expanded range requirements can be met with the high power version of these radios, providing 50 watts output on VHF and 45 watts output on UHF.

A wide level of spectrum efficiency adds to the value of the IC-F520/F620 series. More coverage means broader application per unit, possibly reducing the number of units needed. For example, the IC-F621 version 22 operates within 440 - 490 MHz, all in one radio.

ICOM's advanced companded audio design offers a clean, crisp sound. By suppressing the audio prior to transmission and expanding it for reception, the IC-F520/620 series offers an impressive signal-to-noise ratio. Professionals will notice the difference, and appreciate it when clear communications are a must. Take full advantage of the new audio clarity by using the IC-F500/620 series mobile with ICOM's already-heralded IC-F30G series Public Safety portable radio, which shares superior companded audio technology. Get superior audio in both portable and mobile professional communications!

ICOM America's parent company, ICOM Inc., was founded in Osaka Japan. ICOM is a publicly held Japanese corporation; its stock is traded on the Tokyo and Osaka Stock Exchange. ICOM began as an
engineering and manufacturing company, making advanced, compact solid-state radio equipment for use by amateur radio enthusiasts. ICOM has since grown to become an industry leader with a product line that includes state-of-the-art communications equipment for land and marine use as well as avionics. ICOM America's headquarters are in Bellevue, Washington.

Retail price of the IC-F520 VHF is $420.00, and for the IC-F620 is $475.00. A full line of accessories are available. For more information on the ICOM IC-F520/620 series full-featured mobiles, contact your ICOM dealer, ICOM America, or the ICOM Brochure Hotline at 425-450-6088.


More from Sensors, Monitors & Transducers