Mobile Power Distribution Center steps down 240 Vac to 120 Vac.
Press Release Summary: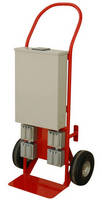 Supplied with 10 ft of No. 6/4 Type-W line in power cord, MDC-240-100MB-8X120 steps down 240 V, 60 Hz to 120 V to lets operators in industrial settings safely tap into and utilize power sources independently of work area. This portable substation makes 120 Vac available with eight 20 A, 120Â V GFCI-protected, 5-20 duplex receptacles with weatherproof covers. Transformer and distribution assembly is mounted to upright steel dolly cart style frame featuring 2 run-flat tires.
---
Original Press Release:

Larson Electronics Releases a New Mobile Power Distribution Center



Kemp, Texas – Larson Electronics has added to its extensive range of industrial grade lighting equipment with the release of a mobile distribution system that steps down 240 volts AC electrical current to 120 volts AC.



The MDC-240-100MB-8X120 temporary power distribution system provides a safe and reliable way for operators in industrial settings to tap into and utilize power sources independently of the work area. This unit provides an effective power distribution system for operators performing plant turnarounds, maintenance and cleaning in hazardous areas, equipment installations and repairs, and any activities requiring an alternative to native power sources. The portable transformer is designed to operate with 240V 60Hz which it then steps down to 120V. The power distribution system on this portable substation makes 120VAC available with eight 20 amp, 120 volt GFCI protected 5-20 duplex receptacles with weatherproof covers.



Ten feet of #6/4 Type-W line in power cord is included to connect the substation to a primary 240V primary power supply. The main load center is protected by a 100 amp load center with main breaker for circuit protection. The 120 volt line out protection is provided by eight 20 amp, 125 volt, 1 pole breakers. Connection for the 120V is through receptacles mounted on the side of the load center. The load center is mounted within NEMA 3R enclosure. The transformer and distribution assembly is mounted to a standard upright steel dolly cart style frame resulting in an extremely stable, durable, and mobile power distribution platform. Two run-flat tires and a cart style mounting platform provides easier substation mobility. This temporary power distribution solution can be modified to meet the needs of job-site receptacle requirements. This power distribution system conforms to UL 508A and is NEMA 3R rated and ideal for indoor and outdoor use applications.



"As a manufacturer, we can custom build portable transformer systems to customer specifications and are able to deliver in a timely manner," said Rob Bresnahan with Larsonelectronics.com. "These systems are ideal for indoor and outdoor use applications such as construction sites, plant maintenance, plant turnarounds, hazardous location operations, shows, exhibits, and shipyard operations."



Larson Electronics carries an extensive line of LED light towers, portable distribution systems, explosion proof lights for hazardous locations, portable work lights and industrial grade LED area lights. You can view Larson Electronics' entire line of lighting by visiting them on the web at Larsonelectronics.com. You can also call 1-800-369-6671 to learn more or call 1-214-616-6180 for international inquiries.



MDC-240-100MB-8X120-PR01

MDC-240-100MB-8X120-PR02

MDC-240-100MB-8X120-PR03







More from Communication Systems & Equipment