Mobile Measurement Case works with Delphin DAQ systems.
Press Release Summary: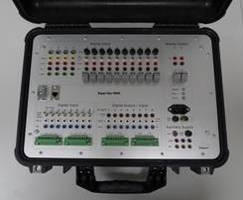 Universal mobile measurement case, accommodating users that need to record and analyze measurement data for servicing, maintenance, and system commissioning applications, is fully compatible with Delphin products, including Message and Expert Key series. Features include signal conditioning and sensor feeds, ProfiSignal software, 32 GB data memory, and  specialist functions for data acquisition, visualization, and evaluation. Custom design lets users select type of connections required.
---
Original Press Release:

CAS DataLoggers Announces Mobile Measurement DAQ Case for Delphin High-Speed Data Acquisition Systems



CHESTERLAND OH—CAS Data Loggers and Delphin Technology jointly introduce the new universal mobile measurement case, the ideal tool for users wanting to record and analyze measurement data. Equipped with analog and digital inputs, this robust case system is especially useful for servicing, maintenance and system commissioning. The case is fully compatible with standard Delphin products, including the Expert Key series of data acquisition systems for lab and industry, and the independently-operating Message devices for industrial measurement.



Now available on request from customers, each case is custom-designed in Germany: for example, if a user needs a system with 10 analog inputs, the case is designed with this in mind. A particular benefit is that users can select the type of connections required from the whole range of available connectors. Users may therefore continue to use existing sensors and sensor types. The case is industrial-strength, durable, and features integrated signal conditioning and sensor feeds, with no additional equipment required. Process signals such as mA and mVolt signals can be directly acquired along with thermocouples, RTDs and (depending on model) electrical data.



All devices from the Delphin Message and Expert Key series are available in these mobile measurement cases. The robust design of the highly-resistant plastic and aluminum cases guarantees a high level of security. All available connections are wired onto the front section and feature engraved lettering. The type of connections (laboratory connectors, screw terminals, etc.) can be selected as needed. The mobile measurement case enables users to perform their tasks simply, quickly and reliably, suited for demanding industrial applications including: Fault detection and Diagnostics in complex machines, systems and processes; Process Analysis and Development; Acquisition and Analysis of energy and vibration data; and Remote Data Acquisition and Monitoring via router and modem communication.



The intelligent Message devices enable users to carry out onsite monitoring and systems management independently, all without the need for PC or laptop support. Measurement data can be securely recorded using an integrated 32 GB data memory. Delphin ProfiSignal software is included in delivery and enables users to analyze the data using y(t), y(x) and logic diagrams. The system is completed with specialist functions for data acquisition, visualization and evaluation.



Now available at a cost-effective price, Delphin's mobile measurement case combines the benefits from Delphin Expert and Message hardware with the advantages of mobile measurement data acquisition.



Learn more about our Delphin system models and capabilities suited to your mobile measurement data acquisition needs on our Delphin product page.



For more information on Delphin data acquisition systems and data loggers, ideal for high-speed industrial applications, or to find the ideal solution for your application-specific needs, contact a CAS Data Logger Applications Specialist at (800) 956-4437 or visit the website at www.DataLoggerInc.com. Contact Information: CAS DataLoggers, Inc. 12628 Chillicothe Road Chesterland, Ohio 44026 (440) 729-2570 (800) 956-4437 sales@dataloggerinc.com

More from Machinery & Machining Tools