Mobile Industrial Computer is intrinsically safe.
Press Release Summary: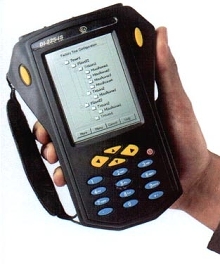 Windows CE based DI-225-IS is SIRA and NEC certified for use in potentially explosive environments. Ergonomic, dustproof, and waterproof enclosure is molded from petrochemical- and solvent-tolerant material. Compact unit, with hand-strap, stylus, and belt clip, weighs less than 700 g. User-defined function keys and 1/4 VGA touchscreen are used for data entry. RS232 connector and cable, and IrDA connectivity allow remote data transfer.
---
Original Press Release:

World's First Intrinsically Safe Industrial Mobile Computing Platform


Diagnostic Instruments Ltd has announced the launch of the world's first intrinsically safe mobile computing platform of its kind.

Based on the popular Windows CE operating system, and certified by SIRA for II 1 G, EEx ia IIC T4 (Nth American equivalent: NEC 505 Zone 0 - A, B, C, D; NEC 500 Div 1 - A, B, C, D) the DI-225 IS is the latest addition to DI's existing 'mobile computing platform' product range.

Combined with leading edge tailored services, ranging from design through to manufacture, the DI-225-IS will further enhance Diagnostic Instruments' unique range of mobile computing solutions. With a vast range of possible applications, the DI-225-IS is set to revolutionize the petrochemical, process, oil and gas workplace. Indeed, any environment where safety is an issue.

Housed in an ergonomic enclosure molded from petrochemical and solvent tolerant material, the DI-225-IS is a highly specified computer carefully designed to maximize battery life. Weighing less than 700grams, and with a hand-strap, stylus, and belt clip, the unit is robust yet compact.

The 1/4 VGA touchscreen allows for quick and easy data entry via the display or using the keypad. Fast action and function keys can be user-defined to enhance and expedite data entry. Linking back to the traditional desktop-computing world couldn't be easier. The unit provides an RS232 connector and cable, as well as IrDA connectivity for remote data transfer.

All of this power and functionality is housed in an enclosure that is drop-tested to 2 meters (6.6 ft) and sealed to IP65, making it dust and waterproof. This combination makes the DI-225-IS a robust device that cannot only match the rigors of the environment, but can be used in areas outside the scope of alternative instruments.

Further information:
DI has a history of excellence in producing rugged, intrinsically safe instrumentation, and has successfully certified a number of products over the past 8 years, primarily for use in process plants for the collection of machine-health related data such as vibration.

The experience gained during this complex and demanding process became the foundation for creating the DI-225-IS. The result is an extremely rugged and powerful computing platform that enjoys all the benefits of using an open software architecture and off-the-shelf PC-based technology.

The DI-225-IS is a computing platform that can safely be taken into potentially explosive environments where instrumentation of this nature has never before been allowed. It is fully Cenelec approved by SIRA (EN50020) for use in petrochemical plants (II 1 G, EEx ia IIC T4) and permissible in Zone 0 classified areas (Nth American equivalent: NEC 505 Zone 0- A, B, C, D;NEC 500 Div l -A,B,C,D).

As software developers working in Windows CE continue to create programs to enhance and support the activities of engineers, the DI-225-IS platform will develop in terms of versatility. Combined with developments in the field of IS peripherals such as bar code and RFID tag readers, the range of applications open to the DI-225-IS are enormous, and continuously growing.

The last two years have seen a dramatic increase in the use of hand-held computing products in industrial, services, laboratory, and field-based applications. These devices bridge the technology gap in applications with a real need for truly portable computing power, matched with a requirement for cross-platform compatibility to the desk top and network-based computer world.

Users have experienced dramatic increases in productivity and efficiency through replacing traditional paper-based systems with dedicated computer-based alternatives. These devices have already brought computers into demanding areas where laptop portability simply could not survive. However, until now they could not be used in potentially explosive environments however, that is now set to change.

More from Electronic Components & Devices