Mobile Induction Generators feature intuitive user interface.
Press Release Summary: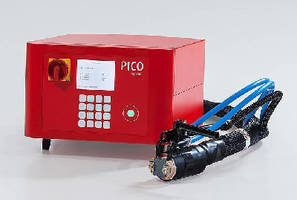 Depending on model, PICO-S, PICO-M, and PICO-L can be configured as medium frequency or high frequency energy sources from 5–150 kW. Units feature continuous, tap, and timer modes, as well as power, current, and temperature control. Plug-and-play generators are equipped with memory for up to 50 recipes and 8 individual timers with up to 600 sec runtime each. Typical applications include inspection work in power plants, heating components before joining, and induction brazing.
---
Original Press Release:

PICO Series by Eldec: Mobile Induction Heating with Maximum Efficiency



The applications for induction heating are extensive. They extend from the automotive industry and mechanical engineering to the energy industry and electrical engineering. The experts at eldec based in Dornstetten near Freudenstadt know these applications very well. For over 30 years, the company has been developing the energy sources for them. 



Low-cost technology



eldec can now provide its customers with a new solution in the form of the PICO series. This compact device is based on time-tested technology, but the configuration of central elements concentrates on the essentials. This ensures a reduction in costs for the design and ultimately in the purchase price paid by the customer. "Our aim was to develop a standardized, low-cost energy source which covers almost every field of application," explains Stefan Tzschupke, Head of Business Development Generators at eldec.



From power plant to automotive engineering



There are three sizes available: PICO-S, PICO-M and PICO-L. These can be configured as medium frequency or high frequency energy sources from 5 to 150 kW, depending on the model. They feature eldec's own control unit, time-tested inverter technology and an intuitive control concept. The device may be used during inspection work in a power plant, for example, to heat so-called expansion screws. Another typical application is heating components before a joining process. The PICO series is also used for standard applications such as induction brazing.



Major market opportunities



"PICO is a low-cost, standardized series with a wide range of applications," explains Tzschupke. "With this in mind, we believe that there are major selling opportunities in Asian markets, for example, in which full functionality, high product quality and low costs play central roles."



For further information click here: http://www.eldec.de/en/products/energy-sources/eldec-pico.html.



More from Explosives, Armaments, and Weaponry