Mobile ID Fingerprint Sensors meet FBI requirements.
Press Release Summary: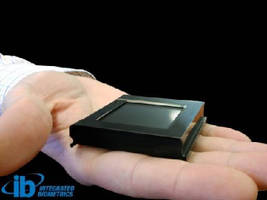 Combining Light Emitting Sensor (LES) technology with thin film transistor, Mobile ID Fingerprint Sensors achieve FBI's Appendix F Mobile ID certification. LES technology utilizes charged polymer film interacting with specific properties of human skin to luminesce fingerprint images, while TFT captures image at FBI's standard 500 PPI requirement.
---
Original Press Release:

Integrated Biometrics Introduces Sherlock the World's Lightest, Thinnest, Smallest, Appendix F Mobile ID Fingerprint Sensors



SPARTANBURG, S.C. -- Integrated Biometrics, LLC (IB) today announces another technological breakthrough with the FBI certification of its newest finger print technology.  IB's development team created the new product using their patented Light Emitting Sensor (LES) technology along with a thin film transistor (TFT). LES technology utilizes a highly engineered charged polymer film interacting with the specific properties of human skin to luminesce fingerprint images. The TFT captures the image at the FBI's standard 500PPI requirement.  The combination of LES Technology and the thin film transistor (TFT) enables size and weight reductions of up to  95% when compared to other products serving the same function.



IB provides custom finger print sensors for markets requiring Appendix F or PIV071006 biometric solutions and unlike other commonly used fingerprint biometric technologies is able to achieve the highest quality of images without compromising device thickness and overall size.  This unique capability has produced the world's first TFT based sensor to achieve the FBI's Appendix F Mobile ID certification.



The technologies are being used to produce the world's thinnest, smallest, and lightest Appendix F Mobile ID biometric sensors



About Integrated Biometrics

Headquartered in Spartanburg, SC, Integrated Biometrics was founded in 2002 as an alternative solution to the commonly used optical and silicon technologies. Our stable and proven team, work with our patented technologies to create unique benefits and provide solutions that overcome the limitations of other biometric technologies. With facilities in South Korea and South Carolina, Integrated Biometrics continues to grow as a leading global provider of finger print biometric sensors.



"We provide leadership, enabling fingerprint capture technology in both standalone and embedded versions suitable for integration into our partners' solutions."



For more information: www.integratedbiometrics.com, toll free +888.840.8034, or Mike Grimes (864) 313.7111.



Web Site: www.integratedbiometrics.com

More from Adhesives & Sealants