Mobile Hydraulic Floor Crane lifts barrels to 144 in. high.
Press Release Summary: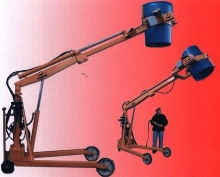 Husky-Master Crane with barrel lifter-dumper lifts and dumps 55-gallon metal drums and plastic tapered drums. Design features gripper with safety hook, telescopic boom, powered lift cylinder, and 12 in. polyurethane wheels. Dumping is activated by 180° rotation of barrel to inverted position. Rotation can be operated five different ways: manual-free 360°, hand-crank controlled, continuous full chain, electrically operated push button control, and air operated rotation.
---
Original Press Release:
New Mobile Barrel Lifter-Dumper

The new design of a mobile hydraulic floor crane with barrel lifter-dumper can now lift and dump 55-gallon metal drums as well as plastic tapered drums.

This unique design of a gripper with a special safety hook will safely retain a tapered plastic drum in the inverted position. The dumping is activated by 180° rotation of the barrel to the inverted position. The rotation can be operated five different ways depending on the application and the user's circumstances:

1. Manual free rotation 360°

2. Hand-crank controlled rotation

3. Continuous full chain rotation

4. Electrically operated push button control (shown in picture)

5. Air operated rotation, for hazardous operations.

The Husky-Master Crane equipped with telescopic boom, 12" polyurethane wheels and powered lift cylinder will lift a drum up to 144" height and dump the contents into a hopper or blender. The mobility is provided by roller bearing mounted wheels with a T-handle tow bar so that the lifting and dumping can be done any place the user needs it and it is completely self-sufficient.

This unit will improve efficiency and safety in any operation where bulk solids, liquids, or parts need to be lifted and dumped.

For more information:

Air Technical Industries

7501 Clover Ave.

Mentor, Ohio 44060

Ph. 440-951-5191

Fx. 440-953-9237

e-mail: ati@airtechnical.com

http://www.airtechnical.com

More from Transportation Industry Products