Mobile Handheld Computer tolerates harsh environments.
Press Release Summary: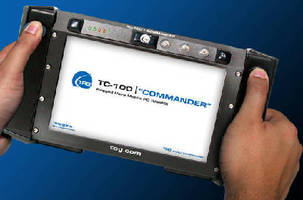 Specifically hardened to withstand tactical field applications, TC-100 Commander(TM) features sunlight-readable display, touch screen, and customizable button configurations. Unit is available with GPS, Bluetooth, and Wi-Fi, as well as video capture, hard-drive encryption, night-vision compatible display, and cellular connectivity. Designed to meet MIL-STDs for shock and vibration, Commander is housed in IP67-rated chassis that protects against sand and dust, extreme temperatures, and moisture.
---
Original Press Release:

TAG Launches Cutting-Edge Ultra-Mobile PC



Dulles, Virginia - August 12, 2009 -- Technology Advancement Group's ® Inc. (TAG®) released their newest product, the second generation of the TC-100 Commander(TM), today. This latest device from TAG defines the cutting edge of fast, mobile handheld computers, featuring a sunlight readable display, a touch screen, unparalleled I/O flexibility, and customizable button configurations.

TAG's TC-100, also known as the "Commander," sets the stage for mobile computers with state-of-the-art technology, specifically hardened to resist the harshest environments of modern tactical field applications. The updated model provides the performance of a dedicated, lightweight (3.8 lbs) computer in a streamlined, portable form factor.

"We at TAG are thrilled to have completed our most innovative product yet," said Matt Hederstrom, Vice President of Systems and Services. "Providing such a high-performance, rugged, flexible device is already solving some tough problems for war fighters, first responders, and industrial customers around the world."

The Commander is available with advanced features such as GPS, Bluetooth, Wi-Fi, video capture, hard-drive encryption, night-vision compatible display, and cellular connectivity. Built-in expansion slots afford mobile users endless flexibility for field applications.

Its ergonomic, handheld design is completely ruggedized and designed to meet MIL-STDs for shock and vibration. An IP-67 rated chassis protects against sand & dust, extreme temperatures, and moisture. Data is secured and battery life extended for optimal field operations. Dual hot-swappable batteries allow for more continuous time in the field without interrupting active tasks.

Different applications may require varying button placements and accessories - each of which can be built into the design. This flexibility is invaluable to end-users in a mobile environment who need the latest technology. In addition to the Commander's many standard features, a number of additional accessories are available to accompany various needs. For example, TAG offers a lightweight spare battery pack, vehicle mount with or without integrated keyboard, vehicle charger, thigh holster, carrying cases, and much more.

Technology Advancement Group, Inc. (TAG) resolves our customers' IT challenges with world-class engineering, manufacturing and integration, and lifecycle management. TAG provides unmatched reliability for your C4ISR Systems through cost-effective turn-key solutions designed for any environment. For more information visit, www.tag.com/commander or email commander@tag.com.

Copyright © 2009 Technology Advancement Group (TAG)
All rights reserved. This publication and its contents are proprietary to TAG. No part of this publication may be reproduced in any form or by any means without the written permission of TAG, 22355 TAG Way, Dulles, Virginia 20166-9310.

TAG has made every effort to ensure the correctness and completeness of the material in this document. TAG shall not be liable for errors contained herein. The information in this document is subject to change without notice. TAG makes no warranty of any kind with regard to this material, including, but not limited to, the implied warranties of merchantability and fitness for a particular purpose.

Trademarks

All trademarks, marks, names, or product names referenced in this publication are the property of respective owners, and TAG neither endorses nor otherwise sponsors any such products or services referred to herein.

More from Materials