Mobile E-Scan Radar has revolving, mast-mounted design.
Press Release Summary: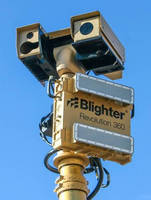 Deployable on vehicle or trailer masts, Blighter® Revolution 360 mobile e-scan (electronic-scanning) radar addresses requirement for mobile radar surveillance for defense and security applications. It detects small and slow moving targets, even in cluttered environments, due to coactive Frequency Modulated Continuous Wave (FMCW) Doppler fast-scan processing. Maintenance-free cable drive azimuth positioner allows full 360° scan and pan surveillance in 12.5 sec.
---
Original Press Release:

Blighter Announces Low-Cost Mast-Mounted Mobile E-Scan Radar



- Blighter Revolution 360 addresses growing requirement for low-cost and lightweight vehicle-mobile radar surveillance for defence and security applications



- Long-life maintenance free cable-drive azimuth positioner allows full 360-degree scan & pan surveillance in just 12.5 seconds



- Blighter Surveillance Systems to exhibit Blighter radars at Milipol Paris, Paris Nord Villepinte, 19-22 November (Stand 5T-061)



CAMBRIDGE, UK – Blighter Surveillance Systems (www.blighter.com), a British electronic-scanning (e-scan) radar and sensor solution provider, today announced Blighter® Revolution 360, a mobile e-scan radar designed to address the growing need for low-cost and lightweight vehicle-mobile radar surveillance systems within the military market and in commercial and state security applications.



Consuming less than 100 Watts of power and with a 38kg mast payload, the novel system detects small and slow moving targets – even in cluttered environments - due to the radar's coactive Frequency Modulated Continuous Wave (FMCW) Doppler fast-scan processing. The radar can detect a walking person at 7.4km (4.6 miles) or a large moving vehicle at 22km (13.7 miles).



Blighter Revolution 360 system is deployable on vehicle or trailer masts and uses a specially-designed maintenance-free cable drive azimuth positioner to provide 360-degree surveillance capability with a single Blighter B402 radar unit. Operating in Vortex fast-scan mode, Blighter Revolution 360 can achieve full 360-degree 'scan & pan' surveillance in just 12.5 seconds.



With its wide 20-degree continuous elevation beam coverage – which can be increased to 40-degrees via an optional motorised tilt option – Blighter Revolution 360 is particularly well suited for mobile deployment in hilly or mountainous areas, such as where a surveillance vehicle is high on a mountain top or deep in a valley.



Mark Radford, CEO of Blighter Surveillance Systems, said: "With Blighter Revolution 360 we are now able to offer all the benefits of our best value long-range B400 series radar in a format that is attractive to the price and weight conscious mobile surveillance market."



Blighter Revolution 360 uniquely revolves around its mast – hence the name – and this allows it to sit beneath an integrated electro-optic camera system.



"This is a big advantage in this market as many customers will want to slew a thermal camera system to track intrusions and allow fast identification of any possible threat," added Mark Radford. "Our system features a non-rotational central post for mast-top camera mounting and our BlighterView HMI 2 software platform is designed to integrate with a wide range of third party camera systems to make this a straightforward process."



Blighter Surveillance Systems delivers an integrated multi-sensor package to systems integrators comprising the Blighter radars plus cameras, thermal imagers, trackers and software solutions. Its ITAR-free systems are used worldwide in commercial, government and defence markets in area and asset protection for national border security, homeland security, critical infrastructure protection such as airports, coastal surveillance, and in military applications.



For more information about Blighter radars or other products from Blighter Surveillance Systems, please visit www.blighter.com, telephone +44 (0) 1799 533200 or email enquiries@blighter.com.



Blighter Surveillance Systems will be exhibiting its Blighter radars at Milipol Paris, Paris Nord Villepinte, from 19-22 November on Stand 5T-061.



A fact sheet for Blighter Revolution 360 can be downloaded here:

http://www.blighter.com/support/technicallibrary.html



High resolution photography to accompany this press release can be downloaded here:

http://www.blighter.com/news/press-releases.html



About Blighter Surveillance Systems (www.blighter.com)



Blighter Surveillance Systems is an electronic-scanning radar and sensor solution provider delivering an integrated multi-sensor package to systems integrators comprising the Blighter electronic-scanning radars, cameras, thermal imagers, trackers and software solutions. Blighter radars combine patented solid-state Passive Electronic Scanning Array (PESA) technology with advanced Frequency Modulated Continuous Wave (FMCW) and Doppler processing to provide a robust and persistent surveillance capability and an unmatched combination of high reliability, accuracy and performance with a low cost of ownership.  Blighter Surveillance Systems is a Plextek Group company, a leading British design house and technology innovator, and is based at Great Chesterford on the outskirts of Cambridge, England.



Media contacts:



Martin Brooke

Martin Brooke Associates

Tel: +44 (0) 1223 882174

Tel: +44 (0) 7776 135402

Email: martin@mba-pr.com



Nick Booth

Blighter Surveillance Systems

Tel: +44 (0) 1799 533200

Tel: +44 (0) 7801 398712

Email: nick.booth@blighter.com

Related