Mobile Device Cart offers 4 configurations and syncing.
Press Release Summary: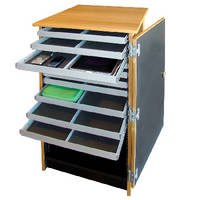 Measuring 24.75 x 44 x 25.75 in., Infinity Mobile Device Cart stores tablets, eReaders, Netbooks, MP3 players, and smartphones in protected, charging, and organized environment that conceals devices and cords. Unit features accuride ball bearing glides for smooth drawer function, bolted 4 in. TPR wheels, internal power panels, and melamine laminate finish. Configuration options include: double compartment cushioned drawers, 8 RU rails, 4 RU drawers, and adjustable shelves.
---
Original Press Release:

Infinity Smart Cart Responds to Market; Announces Four Configuration Options and Syncing



Lebanon, OH—WoodWare Technology Furniture announces that the Infinity Mobile Device Cart (MDC), the next generation of mobile device carts that is more multi-functional and customizable than existing competitive models, has four configuration options to choose from and syncing is now available. The MDC is perfect for schools, businesses, book stores and other applications, according to the manufacturer.



"Now you can store any type of mobile device—Tablets, eReaders, Netbooks, MP3 players, smart phones and more—in a protected, charging and organized environment that conceals and organizes the devices and their power cords," said John Rouse, president of WoodWare Furniture. "The innovative design allows the user to tailor the internal compartments to meet their needs. Sales of the product have exceeded forecast, but we wanted to be responsive to the marketplace and provide options that the market wanted."



Masterfully constructed for daily use, Infinity MDC boasts a rich exterior finish in melamine laminate that blends with any décor. Features include accuride ball bearing glides for smooth drawer function, metal to metal fastening, bolted 4" TPR wheels, assembled power cord access, 270 degree steel hinges and a melamine laminate finish. Additional Infinity MDC product attributes include:



Dimensions at 24.75 in. wide by 44 in. high by 25.75 in. deep



AC power ready




Mounted power outlets accommodate AC adapter oversize plugs



Access to electric, equipment ports, and cable management



Access to each drawer and each compartment from the front and back



Internal power panels on the left and right sides



Cord wraps



Locking front door and locking rear access door for power management



Syncing available



Configuration options:




Double compartment cushioned drawers



8 RU rails



4 RU drawers



Adjustable shelves



With the Infinity MDC, users can customize the interior to their drawer, shelf and rack rail layout preferences for the ultimate in style and convenience. Configuration elements such as rack unit (RU) rails, and double compartment device drawers or rack drawers are available to easily arrange among the product's 16 positions, whether the need is for 16 drawers with 32 device compartments, for ten drawers with 20 device compartments and 8 RU rails to hold rack equipment. Cushioned, dual-compartment drawers hold devices in the proper horizontal position with quick, easy cord management, and keep them safe from scratches or damage from falls that are associated with vertical interior divider set-ups.



"With the Infinity MDC devices are safely placed flat, which is different than products that can only accommodate electronic devices on their sides, edges or other unstable storage patterns that are susceptible to wear and tear, breaks and costly replacements due to damage," added Rouse.



Since its beginning in 1998, WoodWare Furniture has designed, manufactured and shipped technology support furniture. WoodWare Furniture products, available to end users through a national network of dealers, include innovative media presentation carts, lecterns, computer tables, podiums, and laptop and netbook charging carts.  All WoodWare products are made in the USA and shipped from Ohio.



GMi Companies began as Ghent Manufacturing, Inc. when it was founded in 1976. Since that time, the business continually marketed its line of Ghent brand of visual communication products and added three distinct company brands: the Waddell brand of fine furniture display cases acquired in 1986; VividBoard brand of high impact signage boards acquired in 2006; and the WoodWare Furniture brand of technology support furniture acquired in 2010.



For more information on WoodWare technology support furniture, contact John Rouse at (800) 543-0550 or rouse@gmicompanies.com.  Visit online at www.woodwarefurniture.com.  

More from Sensors, Monitors & Transducers