Mobile Device App allows remote access to system information.
Press Release Summary: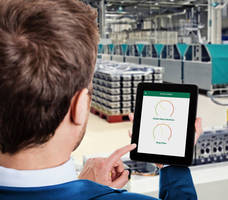 Run on mobile device Web browsers, Mobile Administration Application enables system administrators to access and manage system data from remote locations. Users gain access to data pertaining to current shop floor usage; new support ticket notifications; complete active users list, including login time and active programs; consolidated workstation and server hardware specs; and server-side process status. Drop-down menus, charts, and grids facilitate data viewing and comprehension.
---
Original Press Release:

Global Shop Solutions to Release NEW User Administration Application: Enables Mobile Access to System Information



THE WOODLANDS, TX – In today's fast-paced manufacturing world, nobody stays at their desk any more – including system administrators. Global Shop Solutions, a global provider of ERP software for discrete manufacturers, is making it easier for customers to access system data from remote locations with the release of its new Mobile Administration Application.



"Today's manufacturers need to be able to access shop floor and system data no matter where they're working," Ashley Smith, R&D Global Shop Solutions. "Our new Mobile Admin App enables our customers' system administrators to access and manage system data from anywhere inside or outside the plant."



The Mobile Admin App is designed to run on the web browsers of smart phones, tablets and other mobile devices. By launching the app, system administrators can remotely access important system data, including:



Current shop floor usage

New support ticket notifications

A complete active users list, including login time and active programs

Consolidated workstation and server hardware specs

Server-side process status



Although the screens have been designed to fit the smaller viewing areas of mobile devices, the Mobile Admin App presents the same information system administrators are used to seeing on their PCs. The app's clean, well-designed drop-down menus, charts and grids make it easy for administrators to view and understand the data.



"Global Shop Solutions has enjoyed great success over the years by listening to our customers," adds Dusty Alexander, CEO for Global Shop Solutions. "They told us they wanted more mobile features to integrate with our software, and we responded. We're currently working on a CRM-based application that will provide remote access to customer data for sales people and company executives."



About Global Shop Solutions

Global Shop Solutions, the only provider of One-System ERP Solutions™ designed to streamline operations, has helped hundreds of discrete manufacturers increase sales, improve quality and on-time delivery, and lower costs. Global Shop Solutions is headquartered in The Woodlands, Texas, with offices in major cities throughout the United States, Mexico, Singapore, Indonesia and Australia, serving customers in a variety of industries throughout the world. Global Shop Solutions' unique combination of manufacturing knowledge, software expertise and commitment to customer service has produced more successful implementations than any of its competitors in the industry. For manufacturing companies that want to provide better and faster service to their customers, gain more control over their business and accelerate growth and profitability, Global Shop Solutions is the ERP software of choice.



For more information please visit www.globalshopsolutions.com

Related