Computer and Communication Terminals
Mobile Data Terminal features 3G cellular communications.
Press Release Summary: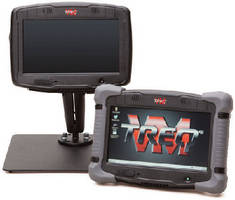 Based on Gemalto's Cinterion PVS8 and PHS8 M2M modules with GPS technology, TREQ-VMx supports 3G UMTS/HSPA+ and CDMA EV-DO communication and is used for managing delivery vehicles, truck fleets, and other mobile assets. Terminal features 800 MHz Marvell®XScale™ PXA166 processor and 800 x 400 WVGA 7 in. LCD with touchscreen. Available in fixed and removable versions, unit also includes CANbus interface, 10/100Base-T wired Ethernet, 802.11b/g/n with internal antenna, and 5 USB 2.0 host ports.
---
Original Press Release:

TREQ-VMx Mobile Data Terminal Now Features 3G Cellular Communications



SALT LAKE CITY, UTAH. –The TREQ-VMx mobile data terminal by Beijer Electronics, a designer and manufacturer of rugged human machine interface products, is now available with 3G UMTS/HSPA+ and CDMA EV-DO modems for faster connection speed and broader network reach. Currently used for managing delivery vehicles, truck fleets and other mobile assets, the removable TREQ-VMx with 3G capabilities allows fleet managers to access a larger communication network, quickly send and receive information and utilize more data capacity.



The 3G technology is designed by Gemalto, the world leader in digital security, developing secure embedded software for banking, wireless services, identity protection and government applications, and within its Cinterion M2M business line the full range of highly robust connectivity devices, embedded software and data management services. Gemalto's Cinterion PVS8 and PHS8 modules provide high speed, high bandwidth data communications for CDMA EV-DO and HSPA+ networks with seamless reliability extended to 2G and 3G networks as well. Offering integrated GPS technology, the modules provide precise location data plus an advanced power management system for extended operation in the field. In addition, Gemalto's Cinterion M2M modules are designed for longevity and flexibility sharing the same footprint with next generation LTE products allowing cost effective solution evolution as technology needs advance. 



Additional features of the TREQ-VMx include a bright, LED lighted, 800 x 480 WVGA, 7" LCD display with touch screen, Marvell®XScale™ PXA166 (800 MHz ARM), J1708/J1939 (CANbus) interface, 10/100Base-T wired Ethernet, 802.11b/g/n with internal antenna, one EIA-232/422/485 configurable; one EIA-232, five USB 2.0 high-speed host ports, one hour active life lithium-polymer battery, extended operating temperature ranges of -20 to 60 °C and Windows® Embedded CE 6.0 R3 operating system. The removable version allows the terminal to be easily removed from its base with one hand for occasional short excursions from the cab of the vehicle.



"Our customers were asking for higher speeds and better connections–and we listened," said Dar Peterson, Vehicle Product Manager of Beijer Electronics. "We are very excited to offer 3G with our TREQ-VMx and are looking to expand the cutting-edge 3G technology by Gemalto into our other TREQ products."



For additional information visit http://www.beijerelectronicsinc.com/product/vehicle/treq-vm-vmx.php.



About Gemalto

Gemalto (Euronext NL0000400653 GTO) is the world leader in digital security with 2011 annual revenues of Euros2 billion and more than 10,000 employees operating out of 74 offices and 14 Research & Development centers, located in 43 countries.



Gemalto develops secure embedded software and secure products which we design and personalize. Our platforms and services manage these secure products, the confidential data they contain and the trusted end-user services they enable. Our innovations enable our clients to offer trusted and convenient digital services to billions of individuals. For more information visit www.gemalto.com or follow @gemalto on Twitter.



About Beijer Electronics

For over thirty years, Beijer Electronics has designed and manufactured human machine interface (HMI) products for industrial OEMs and vehicle systems integrators. Products include automation software, operator panels, industrial/panel PCs and environmentally-rugged QSI™ HMIs and TREQ® mobile data terminals.



Since its start-up in 1981, Beijer Electronics has evolved into a multinational group present in twenty-one countries. Beijer Electronics is listed on the NASDAQ OMX Nordic Exchange Stockholm's Small Cap list under the ticker BELE. For more information, contact Beijer Electronics, Inc. at 801-466-8770, visit www.beijerelectronicsinc.com or follow @beijerinc on Twitter.

Related