Mobile Cart Structure facilitates part transport/storage.
Press Release Summary: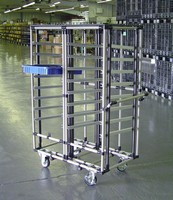 Offered as multitasking and adaptive material handling structure, Tray Cart/Rack utilizes Creform® System of pipes and joints and can be used for storing and transporting shallow trays and low-profile tote boxes containing parts and components. Construction features such as aluminum U-channel sections, rails, vertical backstop pipe, and attachable/detachable elastic strap secure trays in their position. Open shelf configuration facilitates loading/unloading.
---
Original Press Release:

New Creform® Cart Multi-Tasks for Transport & Storage



Creform® Corporation offers a new, multi-tasking and adaptive material handling structure utilizing its Creform® System of pipes, joints and innovative thinking. The Tray Cart/Rack structure can be used for storing shallow trays and low-profile tote boxes containing parts and components and transporting throughout a facility as well as safe, secure over-the-road travel. The new design features aluminum U- channel sections that function as tray supports and are mounted on the opposing vertical columns of the structure's bay(s). The channel is sized to allow the tray or box's lip to easily slide into the channel. Because the lip is then retained on three sides by the channel rails, each tray or box is held securely during over-the-road transport.

Each U-channel is mounted with a slight front to back downward angle that prevents trays from sliding off the front (or loading side) of the rack while an integral vertical backstop pipe keeps trays in place, helping to ensure that the trays remain seated and resist the vibration and jostling of transport. As an added precaution, an attachable/detachable elastic strap extends down the front of each bank of trays to secure their position. Based on application specifications of tray/box dimensions and part data, channel rail spacing between levels can be positioned so that the bottom of an upper container helps to retain the parts of the tray immediately below, thus preventing parts from being tossed around. The open shelf configuration makes loading and unloading easy, while the adaptive nature of the Creform System's construction flexibility provides the option of handling parts/trays from one side of the rack, or to offer load/unload access from both sides of the cart. The open structure design means the cart itself is lightweight, making it easy to maneuver even when fully loaded with parts. Maneuverability is enhanced by Creform heavy duty bolt-on casters with large diameter wheels for greater load handling capacities and easy rolling over a variety of surface conditions including manufacturing environments, on loading docks and in/out of trucks.

The channel Tray Cart/Rack is ideal for handling parts when climate handling is important, such as curing and drying operations where the open design promotes unobstructed air circulation to hasten processing times. This layout also supports easy visual inventory management to sustain a continuous parts flow to work stations and through processes.

The Tray Cart/Rack with channel supports is constructed using the Creform System of plastic coated pipe, joints and accessory components. They can be economically custom matched to specific spacing, tray length x width sizing, as well as rack length, depth and height. Capacities can be varied dependent upon the number of support bays incorporated into the structure. This also allows for storing parts/trays in a sequenced order, or to mix and match component storage/retrieval from levels and bays organized to optimize operation efficiency. The organization provided by the cart/rack offers a simple method to keep parts separated, to prevent damage from part-to-part contact, and to minimize operator error.

The carts can also be constructed using ESD-rated components that offer protection from the build up and discharge of static for storage/transport structures used in handling sensitive electronics. The Tray Cart/Rack design can include a hitch apparatus for towing by automated carts such as the Creform AGV System.

Visit www.creform.com for additional information regarding Creform Corporation, its products and applications.

More from Material Handling & Storage