Mobile Broadband Router delivers reliable M2M connectivity.
Press Release Summary: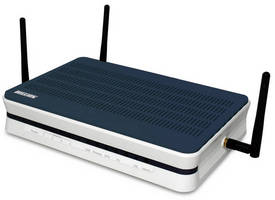 Via its embedded dual-SIM card slot, BiPAC 7820NZÂ enables constant and seamless Internet experience by accommodating plug-in 3G/4G LTE SIM cards; additional 3G/4G LTE USB modems are not required. Downstream rates reach 100 Mbps, and functionality lets users instantly manage and control real-time data flow of their chain stores. IPSec VPN protocols allow users to establish encrypted private connection of up to 16 simultaneous tunnels over Internet.
---
Original Press Release:

Billion Officially Launches Embedded Dual-SIM Mobile Broadband Router - BiPAC 7820NZ, Offering Reliable Network Connectivity for Industrial Applications



Taipei, Taiwan – Billion Electric Co., Ltd. (Taiex: 3027, trading as Billion), a leading supplier in network communication and energy management solutions officially launches a new cutting-edge dual-SIM 3G/4G LTE mobile broadband router – BiPAC 7820NZ. Its uniquely embedded dual-SIM card slot enables users to enjoy constant and seamless Internet experience by simply plugging 3G/4G LTE SIM cards into its built-in SIM slots without the needs of additional 3G/4G LTE USB modems. It is perfectly suitable for machine-to-machine (M2M) applications in industries ranging from automotive, agriculture, construction, healthcare, logistics, retail services, public safety, and transportation.



"Foreseeing the vigorous development of 3G/4G LTE networking equipment, Billion takes the lead to officially launch uniquely embedded dual-SIM mobile broadband router - BiPAC 7820NZ, offering industrial and commercial users constant and seamless 3G/4G LTE Internet experience," said Ben Chen, Director of Billion Electric. "It is especially suitable for machine-to-machine (M2M) applications in industries which highly demand for reliable network connectivity such as ATM system, surveillance, and POS system in order to realize industrial automation, management and control optimization. Featured with secure VPN functionalities, the BiPAC 7820NZ also assists industrial users to manage automatic system as well as sales and inventory control system. At the same time, users can manage and control the real-time data flow of their chain stores instantly."



Although 3G/4G LTE standard has become the most popular wireless data communications technologies in the market, Billion BiPAC 7820NZ enables users to easily switch to different generation of wireless data communications standard without the fear of losing connection, enjoying the downstream rates of up to 100Mbps. Therefore, users can enjoy multi-media experience such as watching movies, downloading music, accessing e-mail or activating VoIP calls wherever 3G/4G LTE connection is available. Additionally, its IPSec VPN (Virtual Private Network) protocols allow users to establish an encrypted private connection of up to 16 simultaneous tunnels over the Internet. Office users can securely transmit sensitive data between remote sites and their company anytime, thus enhancing overall productivity.



About Billion

Billion Electric Co., Ltd. (Taiex: 3027, trading as Billion) was established in 1973. We are a leading Asian Pacific-based company of Power Supply, BPL / EoC / G.hn products, Fiber and DSL Wireless Router/Gateway, Mobile Broadband Communication Equipments, Smart Energy Solutions, and Street Light Retrofit Solutions for ESCO and lighting vendors. Billion's in-house R&D laboratories located at Taipei and Hsin-chu in Taiwan, Nanjing and Dong-Guang in China are specializing in the fields of communications, networking, power, and energy management in order to provide customerized and innovative products and solutions. Billion now have manufacturing locations in Taiwan and China. All factories are ISO 9001, ISO14001, IECQ QC080000, and TL9000 certified. For more information, please visit our websites at www.billion.com and www.smartgrid.com.tw.



For additional information, please contact:

Media contact: press@billion.com 

Sales contact: sales@billion.com

More from Fluid & Gas Flow Equipment