MLCCs combine high volumetric capacitance and low ESR.
Press Release Summary: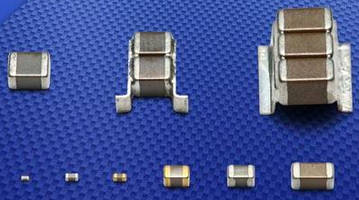 Offering alternative to polarized tantalum and electrolytic capacitors in filter applications, X7R and X5R series multilayer ceramic capacitors (MLCCs) are packaged in 0402 to 1812 case sizes and offer capacitance values from 100 pF to 100 µF. Available value-added capabilities for these products include non-standard plating finishes, such as gold; affixing of various standard and custom lead frames; as well as screening to various reliability MIL PRF levels.
---
Original Press Release:

NOVACAP's New High-Capacitance MLCCs Combine High Volumetric Capacitance with Low ESR to Dramatically Reduce Component Dimensions



X7R and X5R series offer alternative to polarized tantalum and electrolytic capacitors in filter applications

VALENCIA, Calif.-- November 11, 2008 -- NOVACAP , a Dover Company (TSE: DOV), introduces a new line of high-capacitance multilayer ceramic capacitors (MLCCs) that combine higher volumetric capacitance per given board area with lower equivalent series resistance (ESR) than alternative solutions. The high-capacitance devices in the new X7R and X5R series are packaged in 0402 to 1812 case sizes with a capacitance value range of 100 pF to 100 µF. These devices are ideal for replacing polarized tantalum and electrolytic capacitors to simplify manufacturing. Their low ESR characteristics, typically one to two orders of magnitude lower than alternative devices at frequencies greater than 10 kHZ, allow for comparable filter circuit designs to be achieved at typically one-third to one-fifth of the capacitance values. Additionally, these devices offer improved reliability performance over tantalum and electrolytic capacitors utilizing less power. Typical applications for these capacitors include digital circuits, power supply bypass capacitors, LCD modules, smoothing capacitors and input-output filters in DC-DC converters.

According to Scott Sentz, Novacap's Director of Marketing, "Novacap is able to offer value-added product processing and test screening to meet each customer's unique design requirements. These additional benefits typically are not offered by other suppliers."

Novacap's value-added capabilities for the X7R and X5R series include:

Ability to provide unique, non-standard plating finishes, such as gold.
Ability to assemble and stack capacitors to increase capacitance for a given board pad space without imposing a height restriction.
Ability to use a single pick-and-place step to put the high-capacitance-value devices into an array along with multiple components (i.e., capacitors, resistor, inductors).
Ability to affix various standard and custom lead frames to improve reliability through thermal and mechanical stress reduction.
Ability to screen for optimum reliability. Products are burned in at an elevated voltage and temperature and are 100% electrically inspected to ascertain conformance to strict performance criteria.
Ability to screen capacitor groups to various reliability MIL PRF levels (Group A, Group B, Group C tests) and provide qualification testing for each customer's SCD requirements.
Ability to comply with environmentally friendly standards such as RoHS.

For more information, please go to: http://novacap.com/product_page.php?pk=PR30

Price: $0.01 - $1.00 per unit, not including value-adding processing, assembly, leading, or high-reliability screening
Availability: Now
Delivery: 8 to 16 weeks ARO, dependent on level of special processing and testing

To contact NOVACAP about products, please go to: http://novacap.com/salesrep.php

About NOVACAP
NOVACAP, a Dover company, with headquarters and principal manufacturing facilities in Valencia, California, specializes in application-specific multilayer ceramic capacitors (MLCC) and capacitor assemblies for aerospace/avionics, medical, oil exploration, military and defense, power conversion and telecommunications. NOVACAP offers products that range from 0402 surface-mount devices to large, high-voltage units (up to 20 kV) and high-temperature (200 °C) devices. NOVACAP is a preferred vendor in many high-performance applications including medical implantable and life support systems, detonation circuitry, oil exploration devices, photoflash, laser, power interruption and power storage modules.

Contacts:
NOVACAP
Scott R. Sentz, Director of Marketing
25136 Anza Drive
Valencia, CA 91355
Phone: 661-295-5920 x135
Email: ssentz@novacap.com

Agency Contact
WelComm, Inc.
Marsha Lisak , Senior Account Executive
Phone: 805-223-2311
Email: marsha@welcomm.com

Related