MLCC With Interposer Substrate reduces acoustic squealing noise.
Press Release Summary: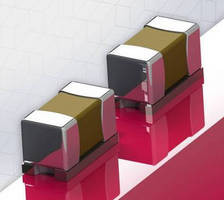 Available with 4.7, 10, or 22 µF capacitance values with X5R temperature characteristics, ZRB series are designed to reduce acoustic squealing noise typically induced by mechanical vibration of capacitor. Use of interposer substrate mechanically isolates monolithic ceramic capacitor (MLCC) from PCB to reduce audible noise. Models come in EIA 0402 (1.0 x 0.05 mm) and EIA 0603 (1.6 x 0.8 mm) package formats with 6.3, 10, 16, and 25 Vdc working voltages.
---
Original Press Release:
Murata's MLCC with Interposer Substrate Reduces Acoustic
Hoofddorp, Netherlands – Murata today announced the ZRB series of monolithic ceramic capacitors (MLCC) packaged on an interposer substrate designed specifically to reduce acoustic "squealing" noise typically induced by mechanical vibration of the capacitor. Available in the same size as conventional MLCCs, the ZRB is available in EIA 0402 (1.0 x 0.05mm) and EIA 0603 (1.6 x 0.8mm) package formats with working voltages of 6.3, 10, 16 and 25 VDC, With this approach, the ZRB becomes an ideal replacement part to update an end-application design without the need for modification of the PCB layout.

This form of acoustic noise has become of concern for the electronics industry and effects many types of consumer electronics devices such as laptops, tablets and smartphones. The PCB can amplify the audio noise generated by the capacitor, so by using an interposer substrate the MLCC becomes mechanically isolated from the PCB.  Reduction in audio noise can be achieved against a traditionally designed MLCC.

The ZRB series is available with the following capacitance values 4.7, 10 or 22 uF with X5R temperature characteristics.

For further information and reader enquiries:
Aya Tonooka
Murata Europe Limited
Oak House, Ancells Road
Ancells Business Park
Fleet, Hampshire  GU51 2QW, United Kingdom
Tel: +44 (0) 1252 811666 
E-mail: atonooka@murata.co.uk
Fax:  +44 (0) 1252 811777 
Web: www.murata.eu

Agency contact:
Robert Huntley
Publitek Limited
18 Brock Street
Bath, BA1 2LW, United Kingdom
Tel: +44 (0) 1225 470000 
E-mail: robert.huntley@publitek.com
Fax:  +44 (0) 1225 470047 
Web: www.publitek.com

About Murata
About Murata
Murata is a leading manufacturer of electronic components, modules, and devices. The complete range of this Technology house includes ceramic capacitors, resistors/thermistors, inductors/chokes, ceramic resonators, buzzers, sensors and EMI suppression filters. Whilst the company gets the majority of its revenue from its ceramic capacitor products, it is also the world leader in Bluetooth® & WiFi™ Modules, the world's no.1 manufacturer of board-mount DC-DC converters and is a key manufacturer of standard and custom AC-DC power supplies. Murata also designs and manufactures mobile handset antenna families, piezoelectric actuators for fuel injection systems and short focal length ceramic lenses.

Established in 1944, Murata is headquartered in Japan and has European offices in Germany, the Netherlands, the UK, Switzerland, Italy, France, Spain, Finland and Hungary.

For more information on Murata, please visit: www.murata.eu. You can also follow us on Twitter @MurataEurope or LinkedIn http://www.linkedin.com/company/murata-electronics, or join us on Facebook at http://www.facebook.com/MurataElectronics.