Miyano's BNJ Series of Compact CNC Turning Centers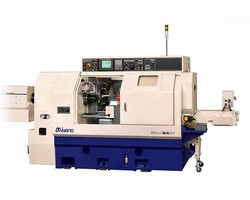 Wood Dale, IL - (September 6, 2006) The BNJ Series of compact turning centers from Miyano are uniquely configured to perform simultaneous and simultaneous overlap machining.

The BNJ Series features a stationary main spindle with a turret on X, Y and Z axes and an R-spindle on X and Z axes. While the main turret is working on the main spindle, the R-spindle can simultaneously perform secondary functions on either the main turret (through an overlapping control) or on the back-working turret. Overlapping machining is especially effective for long cutting cycles. The back-working turret operation works by allowing the R-spindle to move forward to perform overlap machining and cutoff operations. The use of simultaneous, overlapping machining or simultaneous machining drastically reduces cutting cycles for secondary operations compared to a conventional 2-spindle, 1-turret machine. Cycle times on symmetrical parts especially can be reduced by approximately 50%, while cycle times for other conventional work shapes can be reduced by 35%.

The 12-station main turret, equipped with a Y-axis, provides high-quality, highly efficient combined machining and reduces cycle times by permitting simultaneous front-and-back operations. This consolidates work, simplifies workflow, reduces dead stock and reduces overall costs. It also allows for versatile machining capabilities, including special work profiles including those with large crosswise contours.

While the main spindle of the BNJ Series can accommodate up to 12 tools, the R-spindle can be worked up to 18; 12 on the main turret and 6 on the secondary turret Revolving tools on the main turret can be shared by both spindles so tool shortages are virtually eliminated.

Miyano's BNJ-42SY is available with a 1.65" diameter maximum bar capacity, L-spindle motor (30min/Cont. Rat) VAC 11/7.5kW at speed ranges from 67 - 5,000 rpm and R-spindle motor VAC 5.5/3.7kW at speed ranges of 67 - 5,000 rpm.

For more information, visit our IMTS Booth #A-8717 or log on to www.miyano-usa.com or contact
Miyano Machinery USA Inc.,
940 N. Central Ave.,
Wood Dale,
IL 60101
Phone: 630-766-4141
Fax: 630-860-7266
email: sales@miyano-usa.com.


More from Packaging Products & Equipment