Mixer/Stirrer operates in open or closed vessels.
Press Release Summary: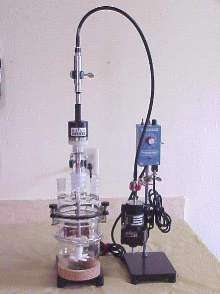 Magnetically-coupled Model 216AF is suited for pressure or vacuum environments, in glass or metal reactors ranging from 100 mL to 70 L. It is capable of variable mixing speeds from slow stir to high-speed mix. Adaptive design allows use of single mixer for open flask stirring or full containment mixing in conditions ranging from 30 in. Hg vacuum to 200 psi. With 4 motor options available, users can choose between directly-coupled electric or air motors.
---
Original Press Release:

The Most Versatile Mixer/Stirrer Available


Replaces 90% of devices for stirring in open, closed, pressurized or vacuum conditions.

Columbus, Ohio - Delp & Associates, LLC the Columbus-based manufacturer of the Delp Mixer has launched its newest product, the magnetically coupled 216AF Mixer/Stirrer. This open vessel stirrer, high speed mixer hybrid can be used with open or closed vessels; in pressure or vacuum environments; glass or metal reactors ranging in size from 100ml to 70L. Multiple drive options are available; directly coupled electric or air motors, or via remote cable drives using electric or air motors. The user-friendly product design is based on hands on research of bench scale mixing/stirring equipment; gives the scientist and technician a multi-use, multi-purpose, scalable tool that will last for years to come, and is the most resource saving device in its class.

Available for immediate delivery, the magnetically coupled 216AF Mixer/Stirrer is capable of variable mixing speeds that allow a full range of agitation from slow stir to high-speed mix. The adaptive design allows use of a single mixer for open flask stirring or full containment mixing in conditions ranging from 30 in. HG vacuum to 200 psi. Scalability is built-in making it possible for a single device to operate within a range of vessels. The 216AF will allow, for the first time, the use of a single mixer from the experimental stage and a 100ml flask to a 70L pilot or production plant. The use of standard industry sizes and entry designs allow installation into tapered or threaded glass or threaded metal ports.

Mixing conditions change, the magnetically coupled 216AF, short for the 216 Air or Flex-Drive, Mixer/Stirrer, does too. With four motor options available, users can choose between directly coupled electric or air motors if a small footprint for confined space use is required. In environments where there is an explosion hazard or the hood space is limited, the mixer can be used with a flex-cable drive and remotely connected electric or air motors. Construction materials can be adapted to meet chemical compatibility issues allowing the 216AF to be manufactured from a variety of advanced thermoplastics or exotic metals; mixer/stirrer shafts come in custom lengths to suit vessel size, and can be produced from glass or metal.

Monkey bars, packing glands, and Teflon sleeves are things of the past with the 216AF Mixer/Stirrer. The mixer is supported by the glassware or lab stand and the self-aligning shaft needs no tubing or adjustments to run in perfect alignment. The proprietary design of the magnetically coupled 216AF Mixer/Stirrer allows vacuum mixing without the use of a packing gland or vacuum grease. Advanced thermoplastic bearings won't spaul off into the contents of the mixing vessel. Medical grade PEEK is the standard material for 216AF bearings and thermoplastic bodies; based on usage, estimated bearing life is five years. Technicians will save hours of set-up, tear-down and clean-up time during the life of the mixer.

Based in Columbus, Ohio, Delp & Associates, LLC produces its signature line of laboratory mixer/stirrers, the Delp Mixer, and is a leading designer and manufacturer of unique products for the polymer, pharmaceutical and life science industries. More information about the 216AF Mixer/Stirrer and the other laboratory products manufactured by Delp & Associates can be obtained by phone at 614-889-1935 or on the Internet at www.DelpMixer.com.

For general information: Lisa Delp, (614) 889-1935, LDelp@DelpMixer.com
For technical information: Terrence Delp, (614) 889-1935, TDelp@DelpMixer.com
On the Internet: www.DelpMixer.com


More from Agricultural & Farming Products