Mix-Dispense Valve delivers miniature precision shot sizes.
Press Release Summary: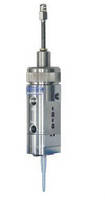 Pneumatically actuated 2-component Model 2200-545-037 is suited for dispensing solvent-based, moisture-curing, and stringy materials such as epoxies, silicones, or polyurethanes in difficult product assembly applications. No-Drip® design technology opens and closes carbide resin and catalyst material passages at mixer entrance to precisely start and stop material flow. Valve has stainless steel wetted components, dual carbide ball and seat shut-off, and wear-resistant fluid seals.
---
Original Press Release:

New 2-Component Mix-Dispense Valve Delivers Miniature Precision Material Beads and Shot Sizes



PLYMOUTH, MI -- Sealant Equipment & Engineering, Inc.'s new Model 2200-545-037 two-component Miniature-Mix and Dispense Valve is designed for precision dispensing of miniature beads and very small dispense volumes of low-viscosity pourable materials and abrasive or filled materials in low flow applications typically found in miniature potting, doming, filling and bonding applications.

The unique Miniature-Mix and Dispense Valve uses No-Drip® design technology ideal for dispensing solvent-based, moisture-curing and stringy materials such as epoxies, silicones or polyurethanes in difficult product assembly applications. The valve opens and closes its carbide resin and catalyst material passages at the mixer entrance to precisely start and stop material flow.

Pneumatically actuated to start and stop material flow, the Mini No-Drip mix and dispense valve has stainless steel wetted components, dual carbide ball and seat shut-off, wear-resistant fluid seals to extend valve life, flow control adjustment, safety closure spring, balancer eye-hook and a quarter-turn bayonet mount for the disposable mixer. The stroke adjuster can set the needle opening to adjust material-flow rates.

The valve's precision dowel and screw holes allow easy and accurate mounting. The disposable mixer shown is a 0.118" diameter, 17 element, 2.45" long bayonet mount disposable mixer with a 0.039" outlet orifice. Many other disposable mixers sizes are available for optimizing mixed material. Resin and catalyst materials are delivered to the Miniature-Mix and Dispense Valve by Sealant Equipment & Engineering's Servo-Flo® metering assembly fed by supply tanks or pumps.

Sealant Equipment and Engineering is the leading manufacturer of precision meter-mix dispense systems and fluid-dispense valves. The company designs, manufactures and integrates precision-engineered dispensing systems, equipment and dispense valves to supply, proportion, control, meter, mix and dispense a wide variety of one-, two- and three-component adhesives, sealants, lubricants including epoxies, silicones, polyurethanes, plastisols, acrylics, greases, oils and other fluid materials.
We work with you directly and select the correct Precision Dispense System components and Dispense Valve for your 1-Component and 2-Component fluid dispensing application. Dispense Valves are available separately to upgrade your current system. We offer basic air operated manual dispensing systems up through robotic applied dispensing systems with touch screen operator interface control. We also integrate and pre-program your dispensing system on our floor with XYZ automation or robotic process equipment.

Let us review your requirements and send you a quote for a high-quality and reliable dispensing valve or system engineered, manufactured and installed by our highly trained personnel. Your new dispensing system will be assembled to meet your exact application requirements.

Sealant Equipment & Engineering is registered to ISO 9001:2000 Quality Management System for all Manufactured Equipment

More from Architectural & Civil Engineering Products