Miura Ultra-Low Nox On-Demand Steam Boiler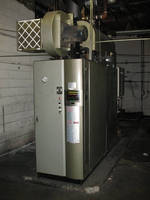 Tread Rubber Manufacturer Retires an Old Fire-Tube Boiler and Realizes Multiple Benefits in Economy, Steam Response, Product Quality, and Maintenance With a New Miura LX-200

ATLANTA - Northwest Wholesale & Retreading was "green" long before most people knew what that meant. Manufacturers of tread rubber for the past 50 years, the company retreads tires used on specialized off-road vehicles. A form of recycling, it extends the life of the giant tires used on earthmovers and other equipment. More recently, Northwest became even "greener," reducing emissions and saving on energy while simultaneously improving its steam response and manufacturing efficiencies by installing an LX-200 steam boiler from Miura, the world leader in ultra-low NOx modular on-demand steam solutions. As Willis Gill, owner of the Portland, Oregon-based company notes, the ability of the Miura boiler to deliver full steam from a cold start in under five minutes ensures the consistent pressure crucial to Northwest's retreading process.

"The Miura LX-200 replaced an old fire-tube boiler, which used to take a lot longer to warm-up and prepare the plant for vulcanizing tires," Gill explains. "With the Miura LX-200, it's practically producing steam from the moment you turn it on. It warms the plant up much more quickly. Some of our applications are both temperature- and pressure-sensitive, and maintaining the consistency of both is essential to quality. We have huge fluctuations in the amount of steam that we need. The old boilers couldn't maintain constant steam pressure. Loading our big pressure chambers is a slow step-by-step process, and the old boilers took a while to warm back up again every time we opened the steam valves. The Miura boiler provides a steady heat source and greatly improves our flow. When we open the valves the Miura goes right into high-fire and the steam pressure is almost instant."

Miura's on-demand steam capability is a result of its unique "once-through" fin-tube design, which uses far less water than traditional boilers do and speeds the time required to achieve full steam. Miura boilers can go from a cold start to full steam in less than five minutes, precisely matching load fluctuations and conserving energy during stand-by idle. Gill estimates that Northwest is saving approximately $1,600 a month in fuel costs.

"We are saving at least 10 percent in fuel costs, and possibly more," Gill notes. "We're not sure because at about the same time that we put in our Miura boiler our production started going up, and the higher your production, the more efficient the plant is. Lower energy bills, however, are only part of the value Miura provides. We are getting more bang for our buck because Miura also enables us to deliver a higher-quality product. Adjustments are very expensive, but our adjustment rate has gone down since installing the Miura LX-200."

Green Advantage

Because Miura's unique "once-through" fin-tube design burns less fuel, it also reduces emissions. Miura boilers output reduced levels of nitrogen oxides (NOx), a major contributor to air pollution, as well as carbon dioxide (CO2), the most prevalent of greenhouse gases. Miura boilers achieve low-NOx performance by reducing the temperature of the boiler's flame, which in turn reduces the amount of excited nitrogen atoms available to bond with oxygen to form nitrogen oxides. As a result, NOx emissions are reduced to around one-quarter of what traditional fire-tube boilers emit. This enables Miura boilers to comply with even the most stringent air-quality regulations. With regard to reduced CO2 emissions, Miura's technology leverages superior operating efficiency to contribute significant carbon abatement with a payback.

"Everyone wants to do the right things and be 'green,' but to be able to do them as a by-product of generating steam is fantastic," Gill states. "And on top of the reduced emissions from our Miura boiler is the fact that we save these big tires, which is also a 'green' thing to do. Instead of discarding old tires and buying new ones, customers can get their tires retread once or twice, which is better for the environment."

Quicker, Cleaner, Smarter

In addition to improvements in steam response and manufacturing quality, lower energy costs, and reduced emissions, there are even more advantages Northwest has realized from choosing a Miura LX-200 boiler, Gill reveals.

"Labor savings, as far as annual inspections and things like that, are a big benefit with Miura," he says. "The old boiler used to require six man-days each year on the annual inspection and for rebuilding stuff. With the new Miura boiler the same two guys can do it in about three or four hours. And the Miura is much cleaner than the old boiler, which our maintenance people really appreciate."

"The Miura boiler also has electronic controls on it," Gill adds. "If there's a problem, which doesn't happen very often, the maintenance guys can see almost instantly what's causing it."

Every Miura boiler features Miura's BL Micro Controller, which keeps track of multiple individual monitoring points. An advanced diagnostic system, it can identify any potential challenge to smooth operation and recommend a solution on an easy-to-read display. A "sliding-window feature" records events four seconds before they occur for fast and effective trouble-shooting. This system can also be accessed via the Internet (Miura Online Maintenance, or "MOM") for remote monitoring and diagnostics.

Saving Space

GVA Northwest, LLC a Miura representative and service company, also based in Portland, provided and installed Northwest Wholesale & Retreading's Miura LX-200 as part of a turn-key operation that also includes service, water softener, and colormetry.

Last but not least, one more benefit of Miura's unique "once-through" fin-tube design is a much smaller footprint, as compared to traditional fire-tube boilers. Even with a much-reduced physical size, however, Miura's exclusive technology produces BHP outputs comparable to much larger units.

"Someday we may figure out a good use for the empty space," Gill says, "because essentially about two-thirds of the space that used to be taken up by our old boiler is now saved. It's a nice advantage. Miura makes good little boilers."

About Miura Boiler

Miura Boiler was founded in 1927 and has grown to become one of the largest industrial steam boiler manufacturers in the world. In 2009, Miura opened a new U.S. manufacturing facility in Polk County, Georgia. For more information on Miura Boiler, call in the USA 1-888-309-5574. In Canada call 1-800-666-2182. Visit Miura online at: www.miuraboiler.com.

More from Printing & Duplicating Equipment