Mitsubishi Showcases Total Supply Chain at CMTS Booth #3300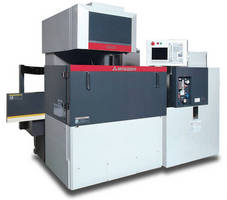 Wood Dale, IL - MC Machinery Systems, Inc. announces its extensive lineup of complementary technologies to be showcased at CMTS booth #3300. Mitsubishi will highlight the latest in wire EDM, sinker EDM, waterjet, press brake and laser technologies.

Mitsubishi will showcase its newest, large-capacity wire EDM, the BA24. The machine's 16.5-inch fully submerged Z axis makes it ideal for the large oil and gas components typical to this region. The machine's new V350II power supply with anti-electrolysis technology helps achieve the high performance machining.

The EA12D sinker EDM features 64-bit PC-based CNC control with a 10.4 inch LCD screen for faster data processing and servo control. It also features E.S.P.E.R. II software for step-by-step programming power settings for burning, and orbital paths for finishing.

The DX612 Mitsubishi Waterjet with 60,000 PSI pump will also be on display. Mitsubishi Waterjet is designed to complement EDM technology with the precision of Mitsubishi controls and servo system. Software on the 4-axis DX612 features Intelligent Tapering Control, which corrects the natural tapering of the cut automatically. Through the CNC it inclines the water jet up to ± 2 degrees while pointing the jet towards the cutting direction. This process allows for the optimum cutting speed in a contour with accurate wall straightness.

Mitsubishi Laser will showcase several new performance-enhancing features of the LVPLUSII-45CFR. The machine delivers new Brilliantcut technology, which can produce a cutting surface roughness equivalent to the typical machined finish. Brilliantcut provides optimal processing conditions, reduced taper, and reduced discoloring on the heat-affected zone.

The new Diamond Smart hydraulic press brake is a real innovation for small and medium size sheet metal working companies The Diamond Smart CNC control offers simple operation, quick and easy part programming, easy machine setup, auto calculation of the bend angle and back gauge position, and angle and back gauge correction.

The Consumable Products Group (CPG) will showcase its extensive line of OEM quality consumables. CPG products maximize efficiencies and increases machine life and productivity. Stop by to talk with a CPG team member about your consumable needs.

Mitsubishi's superior products are backed by industry-leading service and support. With regional satellite service locations across the country, our localized service teams can respond instantly. Our knowledgeable service team will be at the booth to discuss how Mitsubishi goes above and beyond to deliver excellence in customer service.

Visit MC Machinery Systems at CMTS booth #3300 to see the complementary technologies that make up Mitsubishi's total supply chain. For more information, contact MC Machinery Systems, Inc. at 1500 Michael Drive, Wood Dale, IL 60191, call 630-616-5920 or visit www.mitsubishi-world.com.


More from Fluid & Gas Flow Equipment