MISUMI USA to Present New Configurable Components at 2011 Design & Manufacturing Midwest Show in Chicago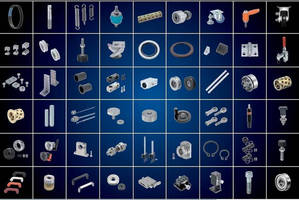 New products include low cost Positioning Components, LX and KU Linear Actuator line extensions, Mini Conveyors, Automotive Style Locating Pins, Factory Frame Joints, and more.

(Schaumburg, IL) MISUMI USA, Inc., a subsidiary of MISUMI Corporation, part of MISUMI Group, Inc.(TOKYO:9962), will highlight a host of new mechanical components for motion control, assembly and factory automation applications at this year's Design & Manufacturing Midwest show, September 20-22, in Chicago. Machine building OEMs and automation system design engineers can learn more about the new products at MISUMI Booth Number 2108.

Samplings of the new MISUMI components include:

o New Low Cost positioning solutions, including Standard Precision Positioning Stages and Simplified Adjustment Units.

o LX Series Linear Actuator line extensions, to include Actuators with Reverse Parallel Motor or Motor Wrap (for space-saving requirements). No design time required - can be configured to precise specifications and standardized for fast, easy reordering.

o Miniature Conveyors, including a new space-saving Flat Belt Single Track Mini Conveyor (70mm) with built-in motor drive, and a Dual Track Mini Conveyor (57mm), End Shaft Driven, which features a rugged carbon steel sprocket and Polyacetal plastic chain for ease of maintenance.

o Gates PowerGrip GT Belt Series, an addition to MISUMI's line of Timing Pulleys and Belts. Offers shaft bore machining and surface treating options, yet ships in only six days!

o Configurable Automotive Style Locating Pins and Holders, in six different styles, developed specifically for leading automotive industry OEMs.

o MISUMI has greatly expanded its lines of Fixed and Configurable Metric sized Metal Plates, adding new lines and a multitude of new dimensions and specifications to its existing array of Metal Plates. In addition, MISUMI will feature live demonstrations of its innovative AutomationMaterials.com website. This easy-to-use online service is designed to streamline and simplify selection, quoting and ordering of Precision Machined Metal Plates used in the assembly of industrial machinery and factory automation systems.

o Factory Frame Joints in five new styles, a significant line expansion for easy assembly of MISUMI's highly popular Aluminum Extrusions, which are available in large array of profiles, styles and sizes.

o New accessories designed for use in assembling factory floor carts, pallets and/or shelving built with MISUMI Aluminum Extrusions, include Adjustable Height Floor Stoppers and Skidproof Nuts.

o MISUMI will feature live demonstrations of its unique Modular Assembler website. Component sets now available for fast and easy design of frequently used component combinations. Modular approach significantly reduces the time and effort it takes to select and specify common sets of mechanical components for specific functions - and the site offers customers fast 2D and 3D CAD downloads and Web ordering.

Most MISUMI components are configurable, with downloadable CAD files and full specs and pricing available at the company's website at us.misumi-ec.com. The new products are also highlighted in the MISUMI 2011 Catalog of Mechanical Components for Factory Automation.

For more information, customers can contact their MISUMI USA Account Manager, call Customer Service at 800-681-7475, or visit us.misumi-ec.com.

About MISUMI USA, Inc.

Located in Schaumburg, Illinois, MISUMI USA, Inc. was established in 1988 as a Subsidiary of MISUMI Corporation, a part of the MISUMI Group (TOKYO: 9962). MISUMI USA, Inc. is a leading supplier of fixed and configurable components such as leader pins, single-axis actuators, linear shafts, slotted keys, aluminum extrusions, parting locks, linear guides, XY stages and other components for factory automation, plastic mold and press die industries. For a complete list of available components, please visit us.misumi-ec.com.


More from Communication Systems & Equipment