Misumi Empowers Engineers With Configurable Components ...And More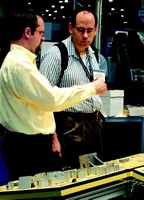 Configurable Component Tech Seminar to be held during show

Schaumburg, Illinois-Misumi USA, Inc. will display its newest products for factory automation at the upcoming National Manufacturing Week (NMW) show in Rosemont, IL (Chicago) on September 23-25, 2008. Misumi is a world leader in supplying fixed and configurable components for all types of motion control, assembly and related factory automation devices.

Highlighted at this year's NMW show will be the company's new single-axis actuators, linear shafts, linear guides, locating pins, aluminum extrusions, rollers and more. Most Misumi components are configurable, with downloadable CAD files and full specs available at the company's website.

Also during the show, on the Level 1 of the Donald E. Stephens Convention Center in Conference Center 12, Misumi will conduct its Configurable Component Technical Seminar to demonstrate the advantages of configurable components for machine, equipment and assembly system engineers attending the show. Substantial cost and time savings will be documented through real-world examples, showing how the unique Misumi business model assists customers with configured components, in quantities as low as a single piece, with no tooling cost, no minimum order requirement and, in many cases, the option of same day shipment.

Designers can go to the Misumi website, use the CAD Configurator to select their part specifications, download the native CAD file in dozens of available formats, import the component into their assembly, verify the part, then order it through the Misumi Web Ordering System, all in just minutes.

Booth personnel will be available to register engineers for the seminar, to be held onsite at the convention center during the show. In addition, the company plans to accept pre-registrations from attendees to receive the company's upcoming 2009 catalogs, containing more than 600,000 products for the machinery and equipment designer.

For more information, please visit www.misumiusa.com today. You can also register for this and other configuration tech seminars by visiting www.misumiusa.com/techseminars.aspx.

About MISUMI USA, Inc.

Located in Schaumburg, Illinois, MISUMI USA, Inc. was established in 1988 as a subsidiary of Japan based MISUMI Corporation. MISUMI USA, Inc. is a leading supplier of configurable and fixed components for factory automation. In addition, MISUMI USA, Inc. offers a range of press and plastic mold/die components, cutting tools and gauges.


More from Software