Mist/Smoke Eliminator is rated up to 1,000 cfm.
Press Release Summary: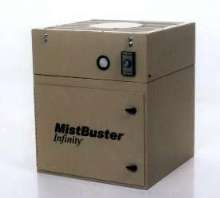 MistBuster Infinity utilizes 2-stage filtration process to eliminate mist and smoke from airstream. During first stage, mechanical mist impingers capture larger mist droplets, which are coalesced and returned to coolant sump. Second stage uses proprietary media with 288 ft² cleaning area. Since variable-speed motor and impeller are on clean air side of unit, dirty air will not contaminate motor or cause impeller to go out of balance.
---
Original Press Release:
New MistBuster® Infinity Mist and Smoke Eliminator

The Mistbuster Infinity, rated up to 1000 cfm with its variable speed motor/impeller, is a machine mountable mist and smoke collector. With patent pending technology, it utilizes a long life media system which will reduce maintenance intervals while providing high efficiency particulate removal.

The MistBuster Infinity, utilizes a two stage filtration process to eliminate mist and smoke from the airstream. The first stage mechanical mist impingers capture most of the larger mist droplets which are coalesced and returned to the coolant sump. The second stage is made of a proprietary media which has 288 square feet of cleaning area. Both stages are easily serviced, when needed.

Because the motor and impeller are on the clean air side of the unit, dirty air won't contaminate the motor or cause the impeller to go out of balance. By eliminating any out of balance conditions, the machining process is unaffected by vibration that may be evident in other collectors. The fan speed is reduced to capture just the nuisance mist which will increase filter life while reducing noise and power consumption.
The MistBuster Infinity comes ready to run with 110 volt electrical connections (220 volt optional). No motor starter is required; all the control circuitry is included.

Optional accessories include inlet plenums, remote variable speed controller, and several mounting arrangements.

Air Quality Engineering, Inc., has dedicated over 30 years to cleaning the air, and now is helping manufacturers meet or exceed the NIOSH criteria for metalworking fluids by using the most recent development in air cleaning technology - the MistBuster Infinity.

Air Quality Engineering, Inc. also offers a complete line of quality air cleaning equipment for a variety of dust, mist and fume collection requirements.

Contact us toll-free: 1-800-328-0787, Telephone: 1-763-531-9823, Fax: 1-763-531-9900 E-mail: info@air-quality-eng.com Web Site: www.air-quality-eng.com
More from Mechanical Power Transmission