Mist and Smoke Eliminator uses 4-stage filtration process.
Press Release Summary: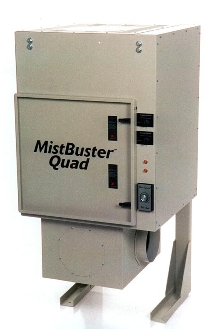 MistBuster® Quad, rated at 1250 cfm, eliminates mist and smoke from air stream. Because motor and impeller are on clean air side of unit, dirty air will not contaminate motor. Unit has no consumable filters to replace. Reusable concentrated cleaning solutions keep filters clean. MistBuster is rated 70 dBA @ 6 ft on high speed. It comes ready to run with 110 V electrical connections, and complies with 0.5 mg/m³ NIOSH criteria for fluid mist.
---
Original Press Release:
Mistbuster® Quad Mist and Smoke Eliminator

Contact: Ira Golden, Vice President, Sales & Marketing
(800) 328-0787

NEW MISTBUSTER QUAD HAS HIGHER EFFICIENCY WITH UNPRECEDENTED
ECONOMY AND CONVENIENCE IN COMPLYING WITH THE 0.5 mg/M³ NIOSH
CRITERIA FOR MACHINING FLUID MIST! RATED AT 1250 CFM THE MISTBUSTER QUAD UTILIZES A FOUR CELL CONFIGURATION (DOUBLE WIDE, DOUBLE PASS) OFFERING HIGHER EFFICIENCY FOR HANDLING MIST AND SMOKE IN MACHINING APPLICATIONS. WITH NO THROWAWAY FILTERS IT ElIMINATES HIGH MAINTENANCE COSTS ASSOCIATED WITH OTHER MIST COLLECTORS.

The MistBuster Quad, utilizes a standard four stage filtration process in a patented design to eliminate mist and smoke from the air stream. The first stage mechanical mist impingers capture most of the larger mist droplets which are coalesced and returned to the coolant sump. The second stage electrostatic precipitator (ESP) provides an intense electrical charge on the remaining contaminates which are then collected on a collection
plates. The third stage is also an electrostatic precipitator which collects the remaining particulate thereby increasing the overall efficiency of the unit. A fourth stage aluminum
post-filter entraps any particles that may have been agglomerated on the cell plates.

Because the motor and impeller are on the clean air side of the unit, dirt air won't contaminate the motor or cause the impeller to go out of balance. By eliminating any out of balance conditions, the machining process is unaffected by vibration that may be evident in other collectors.

The MistBuster Quad has no consumable filters to replace which means that maintenance expense is greatly reduced. Reusable concentrated cleaning solutions provided by AQE keep the filters clean. Based on the amount of contaminate collected, up to one year of service may be achieved before required maintenance. In addition, because the MistBuster Quad doesn't have a high pressure drop like other mist collectors, it can use a fractional horsepower motor instead of the 1-3 horsepower motors many units this size have. This savings alone may pay for the unit.

The MistBuster is also very quiet, rated 70dBA @ 6 feet on high speed. The fan speed can be reduced to capture just the nuisance mist which will reduce noise and power
consumption further.

The MistBuster Quad comes ready to run with 110 volt electrical connections (220 volt optional). No motor starter is required, all the control circuitry is included. Optional accessories include inlet plenums, remote variable speed controller, and several mounting arrangements.

Air Quality Engineering, Inc., has dedicated over 25 years to cleaning the air, and now are helping manufacturers meet or exceed the NIOSH criteria for metalworking fluids by using the most recent development in air cleaning technology - the MistBuster Quad. We also offer a complete line or quality air cleaning equipment for a variety of dust, mist and fume collection requirements.

Contact us toll-free: 1-800-328-0787, Telephone: 1-763-531-9823,
Fax: 1-763-531-9900 E-mail: aqe@isd.net Web Site: www.air-quality-eng.com

More from Chemicals & Gases