Mirror Mount is designed for research and OEM applications.
Press Release Summary: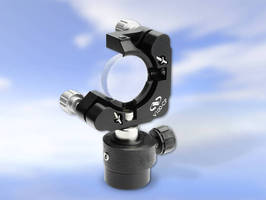 Maintaining standard 1 in. optical axis height, compact V100-CP CenterPoint(TM) mirror mount holds mirror directly above and inline with mounting hole. Clear quadrant mount is English or Metric mounting compatible and can be rotated to steer reflected beam over 270°. In high-density layouts, product can be positioned on adjacent table mounting holes which are only 1 in. apart. Device is utilized in assemblies that require periscopes, delay lines, and polarizer inverters.
---
Original Press Release:

Newport's New Mirror Mount Enables Faster Setups



Irvine, CA - May 18, 2009 - Newport Corporation, a worldwide leader in lasers and photonic solutions, announces the new V100-CP CenterPoint(TM) Mirror Mount. This application-friendly mount holds the mirror directly above and inline with the mounting hole while maintaining a standard 1-inch optical axis height. Having the mirror's reflective surface sit on the rotation axis of the mounting post enables quick research setups without the need for additional adaptor plates. If the optical path needs to change, a simple rotation can steer the reflected beam well over 270 degrees.

Rick Sebastian, Product Manager for Newport's Optomechanics and Manual Positioning, notes, "We are pleased to offer this new economical product, developed for both research and OEM applications. Locating the mirror at the intersection of the optical and rotation axes provides many advantages to the user and includes saving valuable setup time and costs. For OEM engineers, the design process goes much faster simply because the mounting hole is always directly below the optical axis."

The compact, clear quadrant mirror mount is English or Metric mounting compatible, easy to integrate into a custom design, and can be modified with hex screws for OEM applications. In high-density layouts, the V100-CPs can be conveniently positioned on adjacent table mounting holes which are only 1-inch apart. Assemblies using this innovative mirror mount will require fewer standard parts, thereby cutting costs for a variety of optical tools, such as periscopes, delay lines, and polarizer inverters. For more information about Newport's affordable V100-CP Center Point Mirror Mount, please go to: http://www.newport.com/V100-CP.

About Newport Corporation

Newport Corporation is a leading global supplier of advanced-technology products and systems to customers in the scientific research, microelectronics manufacturing, aerospace and defense/security, life and health sciences and precision industrial manufacturing markets. Newport's innovative solutions leverage its expertise in high-power semiconductor, solid-state and ultrafast lasers, photonics instrumentation, sub-micron positioning systems, vibration isolation, optical subsystems and precision automation to enhance the capabilities and productivity of its customers' manufacturing, engineering and research applications. Newport is part of the Standard & Poor's SmallCap 600 Index and the Russell Microcap Index.

Company Contacts:

Kim Abair

Director of Global Marketing

Tel: 800-222-6440

E-mail: kim.abair@newport.com

Rick Sebastian

Product Manager

Optomechanics & Manual Positioning

Tel: 800-222-6440

E-mail: rick.sebastian@newport.com

Newport Corporation

1791 Deere Avenue

Irvine, CA 92606

Tel 949-863-3144

Fax 949-253-1800

www.newport.com

More from Computer Hardware & Peripherals