Miniroller Kits contain miniroller 2-pack, frame, and tray.
Press Release Summary: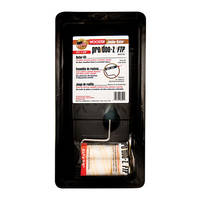 Used for doors, cabinets, and smooth surfaces, Jumbo-Koter® Micro Plush™ kit features 5/16 in. nap microfiber rollers for smooth finishes with all paints/enamels. Jumbo-Koter Super Doo-Z® kit, suited for drywall, plaster, smooth wood, or paneling, features Wooster woven roller fabric and 3/8 in. nap rollers that produce near lint-free finish with all paints/enamels. Making use of Pro/Doo-Z® FTP™ woven fabric with HydroFlow™ technology, Jumbo-Koter Pro/Doo-Z FTP kit includes 3/8 in. rollers.
---
Original Press Release:
Wooster Brush Adds Three New Jumbo-Koter® Miniroller Kits
WOOSTER, Ohio -- A quality finish is often the most important aspect of any paint project—big or small. The Wooster Brush Company is adding three new Jumbo-Koter® kits to their growing miniroller line to ensure that even smaller projects can achieve professional results.

Each Wooster Jumbo-Koter kit contains a miniroller 2-pack, frame, and a Wooster Jumbo-Koter tray. Most of the rollers in Wooster's Jumbo-Koter miniroller program utilize the same fabrics found on Wooster's full-size rollers. Matching fabrics are important because it means that painters can use standard 9-inch rollers and Jumbo-Koter minirollers interchangeably and achieve a seamless finish. Also, all Wooster Jumbo-Koter frames work with both 4½- and 6½-inch Jumbo-Koter minirollers.

The Jumbo-Koter Micro Plush™ kit is excellent for doors, cabinets, and smooth surfaces. These 5/16-inch nap microfiber rollers are made for achieving the smoothest finishes with all paints and enamels. View the full line of Micro Plush items in Wooster Brush's online catalog.

Featuring a popular Wooster woven roller fabric, the Jumbo-Koter Super Doo-Z® kit is best suited for drywall, plaster, smooth wood, or paneling. These 3/8-inch nap rollers produce a virtually lint-free finish with all paints and enamels. The full line of Super Doo-Z products including full-size kits and multipacks may be viewed on the company's website.

Pro/Doo-Z® FTP™ is Wooster's top-of-the-line professional woven fabric. Its exclusive HydroFlow™ technology provides controlled release for improved paint flow during application. The Jumbo-Koter Pro/Doo-Z FTP kit includes a two-pack of 3/8-inch rollers designed for professional results with today's newest coatings. The Pro/Doo-Z FTP roller line, one of Wooster's largest roller programs may be explored in full by visiting their online catalog.

All three Jumbo-Koter minirollers kits retail for up to approximately $12.99 USD each and are available now at traditional paint and decorating centers, hardware stores, paint sundry distributors or retailers.

About The Wooster Brush Company
Established in 1851, The Wooster Brush Company is the oldest independent manufacturer of paint applicators in the USA. Based in Wooster, Ohio, the privately held company with 550 employees produces more than 2,000 products for both professional and DIY painters. Two industry standards--angle sash paintbrushes and synthetic fabric roller covers--exist today because of The Wooster Brush Company. Wooster tools are available at traditional paint and decorating centers, hardware stores, paint sundry distributors or retailers, and home centers. Learn more and view the full Wooster catalog at woosterbrush.com.

CONTACT: Tim Yates, Social Media Manager, Phone: 800-392-7246 ext. 2203
More from Chemicals & Gases