Mining Jumbo employs twin boom design.
Press Release Summary: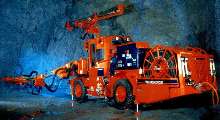 Axera 7 mining jumbo suits applications where heading size ranges from 4 x 4 to 6 x 6 m. Equipped with HLX5-series hydraulic rock drill with 20-22 kW percussion power rating, product drills cross-cuts and bolt holes as well as blast holes from 1 11/16 to 2½ in. It works with drifter rods up to 16 ft long and comes with two 55 kW electro-hydraulic power packs and articulated carrier with hydrodynamic transmission.
---
Original Press Release:
Axera Range of Mining Jumbos Aims to Set New Performance Standards
Bringing new levels of performance to the working environment in underground mining applications has resulted in improvements to Tamrock's Axera range of mining jumbos. The company is announcing one new model and upgrades to its product offering. A desire to place an increased emphasis on improving the work environment has been the inspiration for improvements to the Axera range of mining jumbos from Sandvik Tamrock. The company has focused on three models in its range with the aim of offering customers higher standards with regards to operation and servicing for these machines. Axera 7 is the new high performance twin boom jumbo that replaces the D07. "This product will lift the bar, in terms of performance, in its size class for mining jumbo," says Mr. Jaakko Koppinen of Sandvik Tamrock Corp, Underground Division. He adds, "With the introduction of Axera 7, the focus is on maintainability, serviceability, safety and ergonomics." The jumbo can be used typically for applications where the heading size ranges from 4x4m to 6x6m. The Axera 7 is equipped with the new Tamrock HLX5-series hydraulic rock drill that has a percussion power rating of 20 to 22 kW. It can drill from 43 to 64 mm (1 11/16-2 1/2 inch) blast holes and can also drill cross-cuts and bolt holes. It can work with drifter rods up to 4,6 m (16 ft) in length. The unit comes equipped with two 55 kW electro-hydraulic power packs as well as having an articulated carrier with hydrodynamic transmission. In addition, the company is announcing upgrades to D05 and D06 models in the form of the new Axera 5 and 6. The Axera 5 is the replacement for the full power single boom unit, while the Axera 6 is a compact twin boom jumbo, which has high drilling power in small headings. Common technology platform The company has ensured that all its products within the family share as many common components as possible, which adds to reliability and serviceability. Plus, it allows for compatibility between different equipment in the company's range of construction and mining products. The Underground Division is part of Sandvik Tamrock Corp., a company that develops equipment for all aspects of excavation and drilling activities world-wide. It is part of the Sandvik group whose interests cover materials technology, machine tools, mining and construction. As a leader in its field, the Sandvik group has a turnover in excess of SEK 50 billion. For more information contact: Sandvik Tamrock Corp. Undergroud Division Mr. Jaakko Koppinen, Area Manager P.O. Box 100 FIN-33311 Tampere FINLAND Tel.+358(0)20544121 Fax+358 (0)205 44 120 E-mail: jaakko.koppinen@sandvik.com www.tamrock.sandvik.com Products designed for today's underground working environment Investment in new product development is at the heart of Sandvik Tamrock Underground Division's business philosophy. The company is committed to provide customers with innovative and flexible solutions for the excavation and mining industries. It aims to be recognised as the leader in the rock drilling world-wide. Tamrock Underground Division is one of the two Tamrock divisions operated by Sandvik Mining and Construction. The division markets and manufactures a range of production drilling and rock bolting machines, face drilling jumbos, secondary breaking jumbos and low profile drilling machines for all aspects of the excavation cycle. The division offers this through five product lines; Drifting, Long Hole Drilling, Bolting (that includes Rock Bolting and Cable Bolting), Tunnelling and Low Profile machines that are branded under the Axera, Solo, Robolt and Cabolt brands. With strong growth in the civil engineering and mining sectors, the Underground Division places an emphasis on developing its products using common technology platforms and components so that customers can benefit from upgrades and improvements in Sandvik Tamrock technology. The company also offers a 'total supply' service. This encompasses all aspects of machine selection, supply, delivery, start up and service as well as problem solving and helping customers to use Sandvik technology effectively and efficiently within the excavation process. The Tamrock Underground division has two manufacturing plants at Tampere in Finland and Lyon in France. Sandvik Tamrock is part of Sandvik, a global concern with annual sales of around SEK 50 billion and 67,000 employees. Its business activities concentrate on high technology products and solutions that benefit its customers. The Sandvik Group's operations consist of three business areas (in which Sandvik is a world leader); Sandvik Tooling, Sandvik Materials Technology and Sandvik Mining and Construction (SMC) of which Sandvik Tamrock is a key part.
More from Material Handling & Storage