Minimize Downtime and Protect Your Investment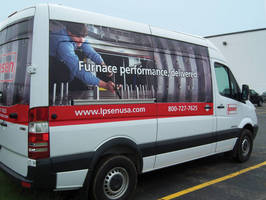 CHERRY VALLEY, IL - When you make the decision to invest in capital equipment you want to make the right choice, the smart choice, long-term. Over time, needs and industry regulations change, which is why at Ipsen we believe that the experience and support delivered after the sale is all part of true, high-quality equipment. "Our U.S. Aftermarket Parts department delivers, on average, 600 to 800 parts orders a month, minimizing downtime for our customers," says John Worley, Aftermarket Support Manager at Ipsen. Beyond innovative furnace design, excellent customer service, and quick delivery of parts and service, Ipsen creates a partnership with their customers - always there to offer technical advice, troubleshooting, maintenance tips and more. The Aftermarket Support (parts and service) and Engineered Components teams collaborate with customers to meet, and often exceed, their expectations, getting their equipment back online fast and helping their equipment to perform at maximum efficiency. The day-to-day upkeep of furnaces and heat treating processes mean as much to Ipsen as it does to their customers, which is why their stock inventories comprise over 2,000 different items to ensure that customers have quick access to needed parts to maintain their furnace. Every furnace part is made to Ipsen's original equipment manufacturer (OEM) specifications. The material, finish, tolerance, size and other details are identical to the part being replaced - unless, of course, improvements have been made. Additional part support includes operation and maintenance documentation, experienced customer service representatives and dependable delivery. Further still, Ipsen's Engineered Components specialists offer advanced methods to enhance furnace performance and efficiency. These improvements include furnace upgrades, hot zone retrofits, rebuild packages for customers seeking faster cycle times, better thermal efficiency, uniform cooling and more. These specialists work with customers to find the best possible solutions to heat treating needs. "Ipsen's upgrades and retrofits enable all furnaces, any brand, to keep up with ever-changing industry certification requirements, even those furnaces that have been running since the 1940s," says Fred Roth, Engineered Components Manager. "This minimizes costs and protects customers' investments."
About Ipsen, Inc.
Ipsen, Inc. designs and manufactures thermal processing systems for a wide variety of markets, including Aerospace, Medical, Energy, Chemical and Automotive. With thousands of installed systems worldwide, whether it's innovative titanium knee implants, making cars more efficient, developing new jet engines or going to the moon, Ipsen delivers quality. For more information visit www.IpsenUSA.com. 
More from Construction Equipment and Supplies