MiniFlex Plumbing Inspection Camera features built-in 512 Hz sonde.
Press Release Summary: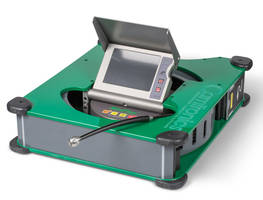 MiniFlex Plumbing Inspection Camera is equipped with CMOS camera chip and 12 white high power LED lights. Featuring durable push cable made of Polyamid blend, unit's patented flexi-tube neck allows the cable to take more than one 90° bend in 1.5 in. pipe and up. Camera's imaging hub comes with 5.6 in. display with 640 x 480 pixel resolution. Product weighs 8.6 kg and its narrow cable makes it suitable for inspection in bath drains, showers, sprinkler lines and swimming pools.
---
Original Press Release:
New Plumbing Camera for Extremely Tight Bends and Traps Available at Fiberscope.net
The MiniFlex Plumbing Inspection Camera is a new tool designed with small diameter pipes and multiple bends in mind.
It is the perfect addition to our selection of plumbing cameras - http://www.fiberscope.net/sewer-drain-plumbing-camera-inspection
The new camera features an extra durable push cable made of heavy duty Polyamid blend to reduce the chances of snapping and other mechanical damage. The special patented flexi-tube neck makes the cable capable of taking more than one 90 degree bend in pipes from 1.5" and up, or a P-trap in a 1.25" pipe and up. The cable is completely waterproof up to 3 bars of pressure (or 100 ft. in fresh water). The tiny 19.5 mm (or 0.76") camera head, in spite of its compact size, is equipped with an advanced color CMOS camera chip, 12 white high power LED lights, and a built-in 512 Hz sonde. The latter is used in conjunction with a detection wand (sold separately) in order to locate the camera head at any given time during the inspection.
The compact portable image hub of the MiniFlex plumbing camera features a color 5.6" display with 640x480 pixel resolution encased in a protective metal casing and furnished with a daylight sun shield. The monitor can flip up if the user needs to position the camera either horizontally or vertically. The device has recording capabilities, and the files (both still images and video clips) are recorded directly onto an SD card. In addition, the image hub is equipped with a text generator in order to accompany the recordings with notes, and an onscreen footage counter. The inspection tool is powered by a rechargeable battery capable of running the camera for up to 7 hours on a single full charge.
The compact size of the unit (total weight is only 8.6 kilos) and its flexible, narrow push cable make it ideal for inspection of such applications as kitchen and bath drains, showers, sprinkler lines, swimming pools, spas, hot tubs and other similar environments. Available options include longer cable lengths and a 512 Hz portable locator. 

Contact:
Terry Peristerakis
Sales Manager
Fiberscope.net by MEDIT
96 Sherbrook St.
Winnipeg, MB R3C2B3
Phone: 204-977-4634
More from Test & Measurement