Miniaturized Ultrasonic Sensors has 4-pin Nano-style M8 connector.
Press Release Summary: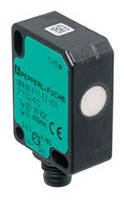 Ideally used in dirty and dusty environments, Miniaturized Ultrasonic Sensors of F77 series are adept at handling color variations and transparent targets. Able to detect objects within surrounding area, sensors are highly immune to noise and have minimal deadband. Having compact size of 31mm x 11mm x 23mm, product operates at temperatures from -25°C to 70°C and give out 50 Hz switching frequency. Sensors provide PNP, NO or NC switch point output and 2 Hz/mm resolution.
---
Original Press Release:
With Their Small Size and Cost, F77 Series Ultrasonic Sensors from Pepperl+Fuchs Win Big
Smaller than a match box, these acoustic sensors come with high-end features and big benefits
F77 series ultrasonic sensors from Pepperl+Fuchs are especially designed to fit in tight spaces, but this is only the beginning of what they have to offer. These miniature sensors are ideal for dirty and dusty application environments, and are adept at handling color variations or transparent targets. And because these miniature sensors can detect objects within an area rather than being restricted to sensing only what is directly in front of them, the F77 series is perfect for applications where the pin-point accuracy of a photoelectric beam is too focused to accurately sense the target.
"F77 series ultrasonic sensors are 100 percent insensitive to color, provide 100 percent reliable clear object detection and ignore target holes and ridges, resulting in a coverage area that is more forgiving than that of most photoelectric sensors," says Marcel Ulrich, Product Manager, Pepperl+Fuchs. "This is particularly significant, for example, in a printed circuit board application where cuts and holes in the board and shiny copper tracks on a dull background would result in false readings for optic-based products."
These sensors are also highly immune to acoustic interference and have minimal deadband – important characteristics for sensors mounted on machinery with noisy pneumatic cylinders. With a housing size of 31mm x 11mm x 23mm, F77 series sensors fit in space-restricted applications and provide up to 50 Hz switching frequency for fast response times. High visibility LEDs give you at-a-glance status indication. Intuitive range adjustments make it easy to make changes on-the-fly.
You can use these IP67-rated sensors in temperatures ranging from -25 °C …70 °C (-14 °F …158 °F). A 4-pin Nano-style M8 connector makes installation easy. These sensors provide one PNP, N.O. (normally open) or N.C. (normally closed) switch point output, use inexpensive discrete PLC inputs, offer high or low frequency options, and deliver a 2 Hz/mm maximum resolution. They are available in diffuse (up to 400 mm sensing range), retroreflective (up to 400 mm sensing range), and thru-beam models (up to 800 mm sensing range).
Pepperl+Fuchs is a world leader in the design, manufacture, and application of high quality factory and process automation products and services. Pepperl+Fuchs pioneered the development of proximity sensors 50 years ago, and has set the standard for innovation and quality ever since.
Pepperl+Fuchs, 1600 Enterprise Parkway, Twinsburg, OH 44087; (330) 486-0001; fax: (330) 405-4710; fa-info@us.pepperl-fuchs.com; www.pepperl-fuchs.us.
More from Packaging Products & Equipment