Miniaturized IR Receivers simplify designs for data transmission.
Press Release Summary: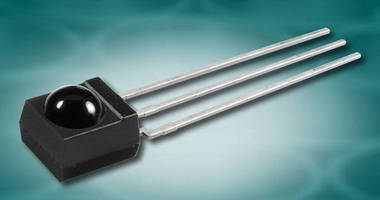 Specified for operation from 2.5–5.5 V, with 0.35 mA supply current at 3.3 V, TSDP34138/56 and TSDP34338/56 are designed for low-speed data transmission and consist of photodiode and preamplifier assembled on lead frame. Epoxy package (6.0 x 6.9 x 5.6 mm) acts as IR band pass filter for use with 940 nm IR LEDs. Using ASK on-off modulated 38.4 or 57.6 kHz signals from emitter with 250 mW/sr irradiance, products achieve continuous data transmission up to 7.8 kbps over range of up to 35 m.
---
Original Press Release:

New Vishay Intertechnology Infrared Receivers Simplify Designs and Lower Costs for Data Transmission



MALVERN, Pa. — Vishay Intertechnology (NYSE: VSH) has broadened its optoelectronics portfolio with the release of two new miniaturized infrared (IR) receivers designed specifically for low-speed data transmission. The TSDP34138/56 and TSDP34338/56 are optimized for low-complexity, low-cost signaling in metering, sensor, automation, and gaming applications.



Specified for operation from 2.5 V to 5.5 V, with a low 0.35 mA supply current at 3.3 V, the Vishay Semiconductors receivers released today each consist of a photodiode and preamplifier assembled on a lead frame. The devices' epoxy package — measuring 6.0 mm by 6.9 mm by 5.6 mm — acts as an IR band pass filter for use with inexpensive 940 nm IR LEDs.



Using amplitude-shift keyed (ASK) on-off modulated 38.4 kHz or 57.6 kHz signals from an emitter with a 250 mW/sr irradiance, the TSDP34138/56 and TSDP34338/56 achieve continuous data transmission up to 7.8 kbps over a range up to 35 meters. In addition, the receivers provide shielding against EMI, immunity against ambient light, and are insensitive to supply voltage ripple and noise from CFL lamps.



Data transmission is a central element in a wide range of electronics. As an alternative to radio frequency (RF) transmission, the use of IR components such as the TSDP34138/56 and TSDP34338/56 simplifies designs, lowers costs, and eliminates the need to obtain regulatory approvals. In addition, by requiring line-of-sight, IR enhances privacy and minimizes interference with adjacent systems.



The TSDP34138/56 and TSDP34338/56 are RoHS-compliant, halogen-free, and Vishay GREEN.



Samples and production quantities of the new TSDP34138/56 and TSDP34338/56 are available now, with lead times of six to eight weeks. Pricing for U.S. delivery only is $1 per piece in 1,000-piece quantities.



Vishay Intertechnology, Inc., a Fortune 1000 Company listed on the NYSE (VSH), is one of the world's largest manufacturers of discrete semiconductors (diodes, MOSFETs, and infrared optoelectronics) and passive electronic components (resistors, inductors, and capacitors). These components are used in virtually all types of electronic devices and equipment, in the industrial, computing, automotive, consumer, telecommunications, military, aerospace, power supplies, and medical markets. Vishay's product innovations, successful acquisition strategy, and "one-stop shop" service have made it a global industry leader. Vishay can be found on the Internet at www.vishay.com.



http://twitter.com/vishayindust

http://www.facebook.com/VishayIntertechnology

More from Packaging Products & Equipment