Miniature Wireless Module provides 5 connectivity standards.
Press Release Summary: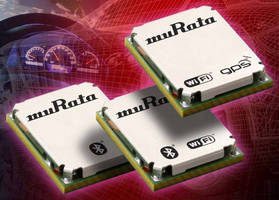 Combining 5 wireless functions into 24.6 x 18.0 x 3.0 mm package, LBEL6Z2TXC helps designers simplify end-designs and conserve board space. Wireless combination module, targeting automotive applications, utilizes AEC-Q100 compliant chipset and supports WLAN, Bluetooth, and Bluetooth Low Energy (BLE) communications in addition to providing FM radio receiver and GPS receiver. Operating from -40 to +85°C, module offers UART, PCM, SDIO, I²S, and audio interfaces.
---
Original Press Release:

Wireless Modules Provide Five Connectivity Standards within a Miniature Single Package



Hoofddorp, Netherlands: Murata today announced the LBEL6Z2TXC wireless combination module aimed at automotive applications and utilizing an AEC-Q100 compliant chipset. Providing support for wireless LAN, Bluetooth, Bluetooth Low Energy (BLE) communications in addition to providing an FM radio receiver and GPS receiver the module measure just 24.6 x 18.0 x 3.0 mm. The WLAN feature is IEEE 802.11 b, g and n compliant and also supports WiFi Direct. Bluetooth 4.0 class 2 compliant support and H4 protocol is standard. By combining the five wireless functions into a single package allow designers to simplify their end-designs, save valuable board space in addition to easing the burden of procurement when compared to having to select multiple modules from other suppliers. Also compared to considering developing their own wireless designs, the use of the LBEL6Z2TXC speeds time to market since the modules are pre-qualified removing the need to time consuming design testing and evaluation.



Module interfaces include a UART, PCM, SDIO, I2S and audio. Power requirements are +3.3 and +1.8 VDC.



The LBEL6Z2TXC module is capable of operating across a wide range of operating temperatures from -40 to +85 degrees C.



Typical applications include car infotainment, parking assistance, telematics, driver assist and internet-in-car.



The module is now sampling with mass production anticipated in Q4/2012.



For further information and reader enquiries:

Aya Tonooka, Murata Europe Limited. Oak House, Ancells Road, Ancells Business Park, Fleet, Hampshire  GU51 2QW , United Kingdom



Tel: +44 (0) 1252 811666  E-mail: atonooka@murata.co.uk

Fax:  +44 (0) 1252 811777  Web: www.murata.eu



Agency contact:

Robert Huntley, Publitek Limited, 18 Brock Street, Bath, BA1 2LW, United Kingdom



Tel: +44 (0) 1225 470000  E-mail: robert.huntley@publitek.com

Fax:  +44 (0) 1225 470047  Web: www.publitek.com



About Murata

Murata is a leading manufacturer of electronic components, modules, and devices. The complete range of this Ceramics Technology house includes ceramic capacitors, resistors/thermistors, inductors/chokes, ceramic resonators, buzzers, sensors and EMI suppression filters. Whilst the company gets 40% of its revenue from its ceramic capacitor products, it is also the world leader in Bluetooth & WiFi Modules, and a key manufacturer of power supplies. Murata also designs and manufactures mobile handset antenna families, piezoelectric actuators for fuel injection systems, short focal length ceramic lenses and speaker products.



Established in 1944, Murata is headquartered in Japan and has European offices in Germany, the Netherlands, the UK, Switzerland, Italy, France, Spain, Denmark, Sweden, Finland and Hungary.



For more information on Murata, please visit: www.murata.eu. You can also follow us on Twitter @MurataEurope or LinkedIn www.linkedin.com/company/murata-electronics, or join us on Facebook at http://www.facebook.com/MurataElectronics.

More from Fasteners & Hardware