Miniature Valve Terminals offer flow rates to 150 lpm.
Press Release Summary: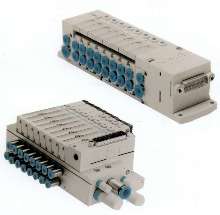 Designed for decentralized control, plate-mounted CPV-SC measures 40 mm wide x 40 mm high with each valve having 10 mm width. Fixed-grid valve terminal offers choice of 4, 8, 12, or 16 valve positions. LEDs indicate switching status, and manual overrides allow for error-checking. Designed for centralized control, sub-base mounted CPA-SC has 10 mm grid with 40 mm height. Both Smart Cubic units operate at 0.9-8.0 bar pressure with 24 Vdc power supplies.
---
Original Press Release:

Ingenious "Smart Cubic" Valve Terminal Series


Festo Corporation, a global leader in automation solutions, is pleased to announce the introduction of our new miniaturized "Smart Cubic" valve terminals, Types CPV-SC (plated mounted) and CPA-SC (sub-base mounted). These unique valve terminals offer compact size, versatility, high speed and flow rates, and are available with various valve functions.

Type CPV-SC
The CPV-SC is a plate-mounted valve, 40mm-wide-by-40mm high with each valve having a 10mm width. The fixed-grid valve terminal offers a choice of 4, 8, 12 or 16 valve positions, with flow rates up to 150 liters-per-minute (.15 Cv). This valve manifold was designed for "decentralized control", by mounting close to the actuators.

The CPV-SC operates with 0.9 to 8.0-bar pressure with a 24 VDC power supply to achieve switching status times in the 10ms range with LED status signaling. The CPV-SC fixed grid design permits the installation of any combination of valves, including 5/2-way single solenoid and double solenoid, 3/2-way and 2/2-way normally open or normally closed valves. Flexible electrical connections can be made via a 15 pin Sub-D, 26 pin HD Sub-D or 20 pin flat cable connector with IP40 protection.

CPV-SC Advantages:
o Decentralized control (close to actuator for faster response)
o Space saving compact design
o High flow/size ratio
o Reduced downtime: LEDs indicate switching status and manual overrides allow for fast error-checking
o Quick mounting: using screws
o Easy expansion
o Fieldbus (DeviceNet and Profibus) available in future

Type CPA-SC
The CPA-SC is a sub-base mounted valve. It has a 10 mm grid with a 40 mm height (including the sub-base), offering a range of electrical connection schemes for standard connections and plug-in sockets, including multi-pin connectors.

These miniaturized, high-flow valves offer a wide choice of valve functions, including 5/2-way single and double solenoid, 2-2-way, 3/2 way and 5/3-way valves. Operating at 0.9 to 8.0 bar pressure with a 24 VDC power supply and 150 liter-per-minute (.15 Cv) flow rate. Flexible electrical connections can be made via a 25 pin Sub-D, 26 pin flat cable connector (latch style) or individual sockets.

Advantages
o Centralized control - quick and easy trouble shooting and valve replacement
o High flow / size ration
o Dual valve slices (ie. two 3/2 valves in a single plate) and all other basic valves (5/2 and 5/3)
o Flexibility of electrical and pneumatic connections - choice of the position of the pneumatic working ports (the connector can be orientated in two different directions)
o Reduced Downtime: LEDs and Manual Overrides standard
o Fieldbus (DeviceNet and Profibus) available in future

For Further Information Contact:
Festo Corporation
395 Moreland Road
PO Box 18023
Hauppauge, NY 11788
Tel: 1-800-99-Festo
Fax: 1-800-96-Festo
Email: customerservice_us@festo.com
Website: www.festo-usa.com

More from Software