Miniature Tubes/Rods target medical applications.
Press Release Summary: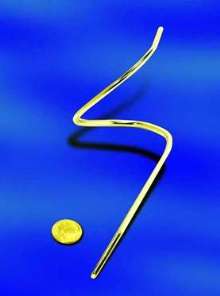 Available in stainless steel, titanium, Inconel and other exotic metals, Custom Rod and Tube components are offered in diameters from .032-1.250 in. and lengths from .032 in. to 12 ft. Solid tubular part end features include bending and contouring, threads, forms, grooves, and cross holes. Parts can be laser etched for part traceability. They are suited for minimally invasive surgical devices used in coronary, vascular, and orthopedic surgery.
---
Original Press Release:

Miniaturized Tube/Rod Medical Components for Minimally Invasive Surgical Devices Custom Manufactured by Marshall Manufacturing Company


Minneapolis, Minnesota: Custom rod and tube components in diameters from .032 to 1.250 inch and made from stainless steel, titanium, inconel and other exotic metals are manufactured to specification from Marshall Manufacturing Company, ISO certified manufacturer of medical device components.

Available in prototype and volume production quantities, countless configurations and features may be designed into these specialized tubes and rods. Applications include miniaturized medical devices for the latest generation of minimally invasive surgical devices for coronary, vascular and orthopedic surgery.

Custom solid tubular part end features available include: bending and contouring, threads, forms, grooves and cross holes. Processes include: grinding, knurling, milling, stamping, broaching, burnishing, induction brazing and four types of finishing - heat treating, electro cleaning, electro polishing and plating. Parts are also available laser etched for part traceability.

Tubular part features available include: swaged ends larger or smaller, swaged special shapes including point, chisel, hex, square, flare and double flare. Tubes may be custom threaded, contoured, bent, threaded, stamped, laser etched, burnished, brazed and finished. A variety of hole configurations from round to special shapes at various angles are available for these tubular parts.

Custom rod and tube lengths range from .032 inch to 12 feet. Assembly operations include press fit, induction brazing, welding, epoxy fastening, to name just a few. Many specialized secondary operations are also available including packaging with SPC and lot traceability.

Marshall Manufacturing is a just-in-time source equipped with a wide range of the latest CNC precision machining equipment including CAD/CAM design, CNC Swiss machining, CNC horizontal and vertical machining, CNC turning, multiple spindle drilling, dual-sided lapping, polishing, stamping and packaging.

Fully committed to the latest advanced manufacturing processes including integrated machine operations and cell manufacturing, Marshall Manufacturing provides highest quality, efficiency and on-time delivery for the medical device industry.

Call 1-800-321-6727 for more information or E-mail tomp@marshallmfg.com

Visit www.marshallmfg.com Or write to Marshall Manufacturing, 3820 Chandler Drive, Minneapolis, Minnesota 55421. Fax: 1-800-321-6728.

More from Health, Medical, & Dental Supplies and Equipment